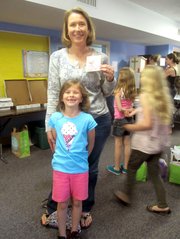 Every week, Julie Miner and Kristin Wilson Keppler would run into each other at Fairfax Presbyterian Church's preschool and exchange "mommy" pleasantries.
Each had three polite, well-groomed children. Each seemed so patient and so "together." Each silently suffered from "perfect mom syndrome."
Stop snickering; it's not your mother's PMS.
If you're a mom in Northern Virginia, and you know the difference between a tangerine UPPAbaby stroller and a McLaren, chances are you, too, have suffered from PMS.
According to experts (yes, there are "perfect mom syndrome" experts), symptoms include feelings of inadequacy, envy, and the stress of constantly comparing yourself and your children to others.
"She always looked so together, so perfect," Miner said.
"Her children were always so polite and well-behaved," said Wilson Keppler. "I wanted to be 'the perfect mom,' like her."
Until one day when they saw each other in the church parking lot, and the perfect-mom façade crumbled. After a stressful day of toddler tantrums and preschool meltdowns, both women were near tears.


THE TWO WOMEN clicked, and realized that, like them, other moms suffered from PMS, and needed a break from striving to be "perfect."
In 2009 they launched a popular blog called "Rants from Mommy Land," an online support group that connects moms with meaningful causes, and dismantles the myth of "the perfect mom" by giving women a chance to rant. Their blog – www.rantsfrommommyland.com - is funny, touching and irreverent, and produces results for moms who need it.
Last Christmas, they facilitated a gift exchange between more than 2,100 women to help moms in need during the holiday.
On Friday, May 11, they gathered about 50 moms at the Fairfax Presbyterian Church to create, stuff and deliver 100 Mother's Day gift bags to women in Fairfax County's homeless shelters.
They said they were motivated by a mom from Iowa, who – after reading their blog – wrote that she was inspired to donate items to her local battered women's shelter for Mother's Day. As part of the Mother's Day project, Miner and Wilson Keppler also helped collect and donate $4,000 for nearly 2,500 Clean Birth Kits.
"There's something about making it personal that seemed to touch a chord with our readers," said Wilson Keppler. "We organized this in about a week," Miner said, "and we're thrilled with the response we've had."
They kept the atmosphere fun and child-friendly. Linda Carter of Fairfax brought five Girl Scouts from Troop 4912 who provided free baby-sitting services, and there was pizza, snacks and drinks for their helpers. "They made it so easy to help," said April Buckley of Fairfax. "I know it made my Mother's Day."


THE GIFT BAGS contained practical products, such as shampoo, toothpaste and body wash, as well as products that pamper, such as scented oils and handmade gifts. Ann Jones of Fairfax created 100 handmade Mother's Day cards. "This is a great project. The women in shelters are down and out, and it feels good to help them," Jones said.
Meghan Szkutak of Fairfax, one of Miner's neighbors, said one blogger from Illinois, Andi, who sells soaps through Etsy, sent in 40 bars of handmade soap.
"It's wonderful knowing that these bags are going to women who might not receive anything else for Mother's Day," Szkutak said.
"This was a very affirming project," Wilson Keppler said. "I told my husband, 'I don't need anything this year. Whatever you were going to spend, I want to use for this project.'"
On Saturday, May 12, they posted this entry on "Rants from Mommyland" from blog collaborator Claire Goss:
"Happy Mother's Day!
No, really, I mean it. This is a truly happy Mother's Day thanks to the generosity and sheer kindness of all of our Mommyland Mother Pucker helpers. We took all that commercialized, superficial, hyped-up Mother's Day bullschmidt and we kicked it right in the crotch, like Ralph Macchio doing a crane kick …
Thanks to you, we helped hundreds of Mommyland moms feel appreciated and loved.
Thanks to you, we got the idea to help moms in our own communities, and we made gift bags for every mom in a homeless or domestic abuse shelter in Fairfax, Va.
Thanks to you, we took Mother's Day BACK!"