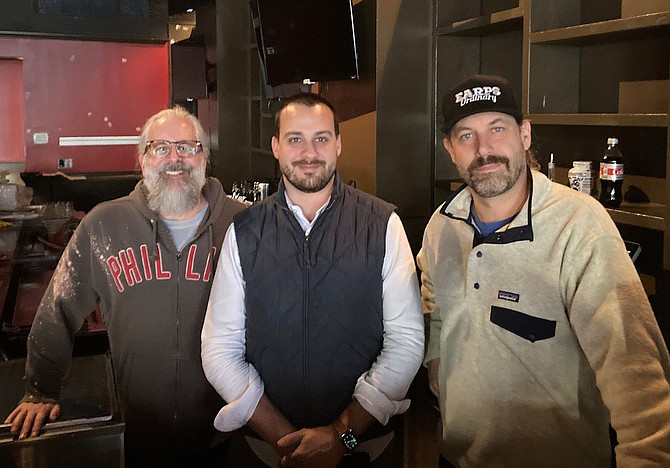 Earp's Ordinary – a new restaurant and live-music venue which will eventually open on Main 
Street in downtown Fairfax City – still isn't quite ready for prime time. But meanwhile, it will burst on the scene as a pop-up this weekend in Old Town Plaza in the Zandra's Taqueria site.
Its mini grand opening will be Friday, Dec. 10, from 5 p.m.-midnight, and will include live music that night and Saturday, Dec. 11, starting at 7:30 p.m. After that, December hours of operation will be:
Monday - Closed; Tuesday, Wednesday, Thursday, Friday – full menu, 5- 10 p.m.; late menu, 10 p.m.-closing; Saturday – full menu, 11 a.m.-10 p.m.; late menu, 10 p.m.-closing; and Sunday – full menu, noon-6 p.m.  
Zandra's, at 3950 University Drive, Suite 210, has been temporarily closed since COVID-19 restrictions were placed on restaurants and small businesses. At the same time, Earp's Ordinary partners, Michael DeMarco and Joshua Alexander, have dedicated the last few years to the construction of their own restaurant space at 10420 Main St.
However, they encountered unforeseen delays outside of their control, so they contacted their restaurant friends about a possible, interim solution. Enter Miguel Pires, owner of Zandra's Taqueria. He already operates two successful restaurants in Manassas and Gainesville and understood the challenges facing Earp's. 
As a result, the discussions among the three business owners culminated in Earp's Ordinary temporarily using Zandra's spot in Old Town Plaza. DeMarco and Alexander will continue managing the build out of their Main Street site while Earp's is able to immediately begin providing customers with a new dining opportunity, craft-cocktail bar and live music. 
"This is all about the community," said Alexander. "We're opening in a pop-up space so developed plans can be finalized, such as our chef-developed menu, and people can meet Chef Sullivan. But this will be a family affair, so customers will see us in various roles as we receive our friends and neighbors enjoying live music, an old fashioned or dinner. It's also just in time for the holidays, and we're pretty happy about that."
Earp's will stay there at least six months, or however long it takes to get their own location finished and ready for business. As for Pires, he's busy expanding his Manassas restaurant and doesn't know when he'll return to Fairfax.
"Earp's Ordinary strives to bring its community together in a lively space that caters to all," said DeMarco. "If you're looking for a space to relax and enjoy local and national acts while eating delicious food, you can experience exactly that at Earp's Ordinary."
December Entertainment Schedule
Dec. 10, Cathy DiToro;
Dec. 11, Cat Janice;
Dec. 16, Shane Gamble;
Dec. 17, Brian Chafin of Grass Fed and an ugly-sweater party;
Dec. 18, Ashleigh Chevalier and a brandy alexander party;
Dec. 19, James Bandini and a piano brunch, 11 a.m.-3 p.m.;
Dec. 21, Winter Solstice celebration and cool-yule drinks;
Dec. 23, Holiday Variety Show: comedian Winston Hodges, 7-7:30 p.m.; singer Laura Farrell, 8-10:30 p.m.;
Dec. 30, Brian Sauerwald;
Dec. 31, New Year's Eve bash:     prix fixe menu, 5-8 p.m. and 8 p.m.-closing; singer Justin Suede, 8:30-11:30 p.m.
* Live acts are 7:30-10 p.m.    
* Dinner reservations are highly recommended, using Open Table