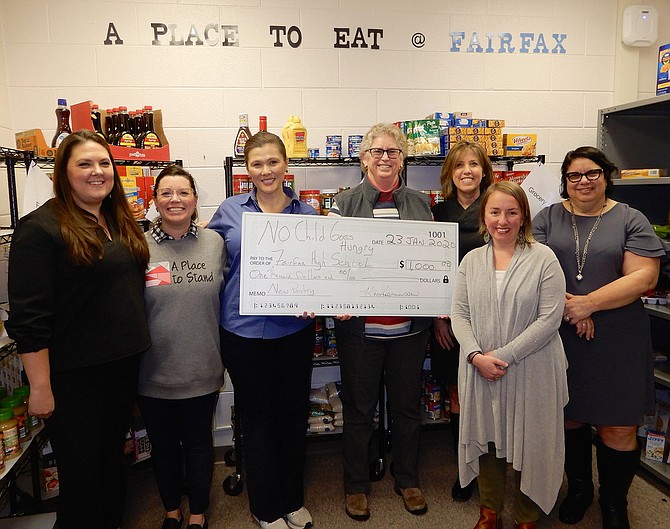 By 12:30 p.m. on a recent Thursday, 10 students had already received food from the new food pantry at Fairfax High. An hour later, 15 more students did likewise.
The pantry is there courtesy of a partnership between the school, Britepaths, FCPS, Food for Others and a small, local nonprofit called A Place to Stand – which is largely running this pantry, plus another one at Lanier Middle School. And it's definitely welcome.
"It's helping with some of the basic needs of our students," said Fairfax Principal Erin Lenart. "Food insecurity is very real – and having a pantry like this at Fairfax helps us provide for a number of our students. The traffic in our first week proved that."
The pantry opened Jan. 16, with parents, students and the community donating food and toiletries. And on Jan. 23, its partners gathered there to see the Rev. Kären Rasmussen – who runs the nonprofit No Child Goes Hungry – present a check for $1,000 from her organization to help stock the pantry further.
STAFFED BY VOLUNTEERS, it's open Thursdays, from 2:55-4:30 p.m. But students may go there any time of day with a staff member. "Students can ask a teacher, their counselor or Student Services to make an appointment for them," said school social worker Ashley Curl.
"Just under 25 percent of our students here are on free or reduced-price lunches," added Director of Student Services Laura Rotella. "But they're actually underrepresented, because not all families report their need."
That's why Lenart hopes members of the community keep donating whatever they can to the pantry. "This is something that's here to stay, but it takes a community effort to keep it stocked," she said. "People can bring any nonperishable and personal-hygiene items to the main office, weekdays, until 4:30 p.m."
However, those planning to, for example, have boxes of food sent directly from Amazon to Fairfax High need to let the school know in advance, so someone will be there to accept them when they arrive. People wishing to donate may go to https://britepaths.org/ or contact the school to see the Amazon wish list of the items especially needed and most popular with the students, such as single-serve, microwavable snacks.
"It's incredible to me that any child in Fairfax County goes to bed hungry," said Rasmussen. "No Child Goes Hungry works to eliminate childhood hunger, one kid and one meal at a time." As for the new pantry, she said, "What a fantastic, community project, and what a way for all of us to pull together to make sure kids have enough to eat. And the staff at Fairfax High is fabulous – what an initiative!"
Also pleased to participate in this group effort was Nikki Clifford, director of Volunteer Services with Food for Others. "We serve all of Northern Virginia, and we know that 28 percent of the students in FCPS schools are on free or reduced-price meals," she said. "And we serve 32 elementary schools with our Power Pack Program, which gives children food for the weekend, when they might otherwise not have any."
Food for Others serves an average of 2,000 FCPS students per weekend. And through a grant from Fairfax County, Britepaths also works with Food for Others to provide weekend food for these students.
"The pantry at Fairfax High helps us reach a population that's more self-conscious and doesn't want to be known as in need and without food," said Clifford. "So it's satisfying to know that so many students have already taken advantage of the pantry here."
Describing Fairfax High's pantry as "nice, clean, organized, bright and cheerful," she was happy about the community's support. And right outside the door, the day she visited, was food that had been donated and moms waiting to stock the shelves with it. "[The partners] saw a need and met it," said Clifford. "And that's awesome."
Britepaths helps provide funds to 20 FCPS schools, thanks to grants and donations given to its Food4Thought program. The money assists the schools' own efforts to help their students in need, and Britepaths Programs Director Chris Garris attended the Jan. 23 ceremony at Fairfax High.
"For the last 10 years, the county and nonprofits have been concentrating on the elementary schools when it came to food packs [for students to take home in their backpacks]," she said. "But now, these students are in middle and high school – and they still need that food – however, it wasn't being provided for their grade levels."
Furthermore, said Garris, "We're hearing that the older students are taking home a breakfast or lunch to provide food for their siblings. They're also working at low-income jobs to help provide for their families." So besides helping fill the food need at Fairfax High, Britepaths is also helping students at Lanier and Frost middle schools obtain food.
COMMUNITY MEMBERS may help Britepaths' efforts by contributing funds and/or food and assembling food packs to donate directly to its partner schools. The schools and their needs are listed at https://britepaths.org/our-services/food4thought/food4thought-partner-schools
Rotella noted two families who are living together to make ends meet. "Then one parent left, but the kids are still stuck having to pick up that rent," she said. "And having access to free food will keep them from having to choose between keeping a roof over their heads and eating."
A Place to Stand – a Fairfax City-based nonprofit that takes a holistic approach to ending hunger – opened Lanier's pantry last March. "It's been a tremendous asset for the community," said Katy Malesky, program director of the organization's "A Place to Eat" entity. "We assist at least 30 kids there weekly, and the school social worker and counselors can help students choose the items they need."
Her organization also noticed the food gap at middle and high-school levels and wanted to address it. "We're boots-on-the-ground, doing everything from soliciting food donations to building the infrastructure to partnering with schools, staff and administration, and even stocking the shelves," said Malesky. "And knowing the need at Fairfax High, we proposed a pantry here, too."
She said procedures will be established to make sure it's a sustainable model. "With food insecurity a problem throughout Fairfax County, it's important that we partner with other nonprofits to share resources and learn best practices," said Malesky. "We also glean from farmers markets and, in the summer, we'll also provide fresh fruit and vegetables."
She also planned to add mobile pantries – large, Rubbermaid containers on wheels and filled with food – in key locations within Fairfax High. For example, she said, "They'll be at the ESOL and athletic departments and at the library, so students will have easy access to food. Our goal is to destigmatize it, so students don't feel bad about getting food from a pantry."
"We'll also have shopping lists available in the office, and with the counselors, of commonly stocked food items," said Malesky. "Then students can check off what they need and leave their lists at the pantry by Thursday afternoon. And by Friday afternoon, their shopping bag will be packed and ready for pick-up. With these three, different approaches, students should be able to get the food they need."