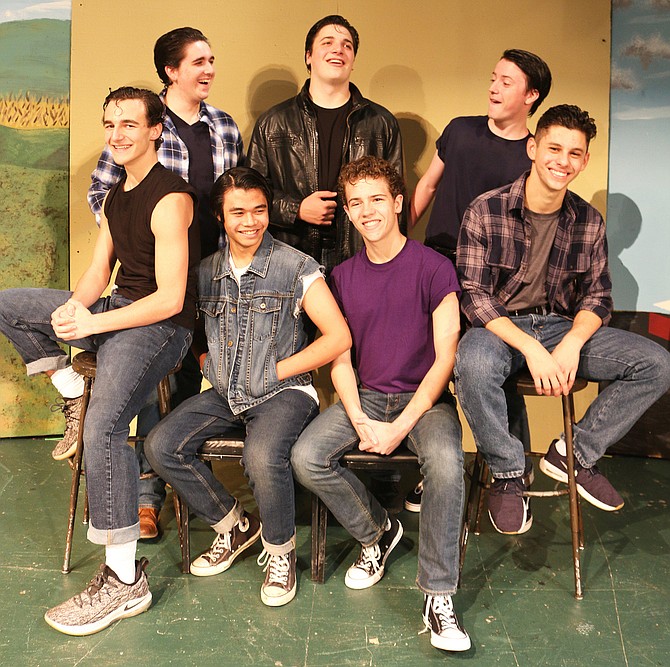 Featuring a cast and crew of 50, Paul VI High presents the play, "The Outsiders." It takes place in mid-1950s Oklahoma and is about the conflict between a group of lower-class young people called the Greasers and their conflict with the upper-class Socs.
The curtain rises Thursday-Saturday, Nov. 21, 22, 23, at 7 p.m.; and Sunday, Nov. 24, at 2 p.m. Tickets are $5, students and senior citizens; and $10, adults; at the door or via stpvihs.booktix.com.
"I chose this play because we have a lot of strong, male actors, and a lot of kids have read this novel in middle school and are familiar with it," said Director Kathy d'Alelio. "This bunch of guys is particularly close as friends, so I knew they'd be good at portraying the cohesiveness of the Greasers because they're so supportive of each other in real life."
And since they portray characters similar to the good parts of themselves, she said that made it easier for them to become those people onstage. "This play is a drama, but also has some humor," said d'Alelio. "And the audience will just want to root for the Greasers to do well and be happy. Normally, they'd look down on them because of the way they look; but they'll learn that these guys are actually honest, supportive and care deeply about each other."
IN THE STORY, Greasers Johnny and Ponyboy are best friends, but the Socs like to jump and attack them for fun. One night, they try to kill Ponyboy because he was with one of the Socs' girlfriends. And to save his life, Johnny kills the assailant, and then he and Ponyboy go on the run.
Portraying Johnny, 16, is senior Martin Umali. "Johnny used to be a regular kid, but he gets beaten up badly and becomes timid and terrified," said Umali. "His homelife is really bad, so his friends become like his family, especially Ponyboy. He's a good kid and, despite being scared of everything, he finds the courage within himself to help and stand up for others when he has to."
Umali loves his part because he's a big fan of the book and movie, in which Ralph Macchio plays Johnny. "I grew up watching movies about superheroes and reading comics about them, and I always wanted to be a superhero, too," he explained. "So this role lets me do that."
He said the audience will appreciate the relationships and dynamic between everyone, especially among the Greasers. "They all come from the same social class and become like a band of brothers who are close and tight," said Umali. "And all these people in the show and behind the scenes put in so much work and are so dedicated that it'll really come through onstage."
Junior Jak Ketron plays Ponyboy, 14. "He's trying to find his place in the world," said Ketron. "He's a Greaser, but not quite like the others in his gang. He likes movies and creativity and doesn't like stealing things and fighting – unless it's against the Socs. He loves watching sunsets, does well in English class and is a good kid. He's also forgetful because he's busy thinking. He's the white sheep among the black sheep because he's pure and innocent."
Also enjoying his role, Ketron speaks an octave higher to portray Ponyboy's youth. "I relate to him because he's a deep thinker and very creative, as am I," he said. "The entire show is him telling his story, and he does a great job of it."
Ketron said the audience will like the cast and how the members all get along. "And the gang fight is so cool," he said. "It was choreographed by Nick Moore, a licensed, stage-combat artist, has a lot of action and looks great from any angle. Overall, it's a beautiful story about a group of guys just trying to stay in the fight. It's the epitome of a hero's journey, and anybody can relate to it – especially those between ages 10-18."
Senior Vanessa Van Horn is the show's sound designer. "We're emphasizing the themes of class division, mortality, change and growth, and hope," she said. "For mortality, we're doing our sound effects and music in minor keys to stress the dreariness of the situation."
For hope, said Van Horn, "We're using the instrumental version of Stevie Wonder's 'Stay Gold' song that was in the movie because it has more of a different tempo and a triumphant feel than the other music in the show. And to emphasize that switch, it won't be done in minor keys."
She enjoys doing sound because of the challenge it gives her. "We have an analog system – unlike digital, which most schools use – and I like being able to understand it, take it apart and put it back together again," she said. "And it gives me more control over the sound, especially when I mess with the frequencies, volume and power of someone's voice."
AS FOR THE PLAY, Van Horn said it's "a classic story many people know through the book or movie. But theater is a different experience and, seeing it come alive in front of them will let them easily put themselves in the characters' places."
The lighting designer is senior Jon Greene. "I light the stage in such a way that it portrays emotion and elevates and intensifies each scene," he explained. "We have about 350 lights that I operate, and each light contains colored sheets of clear paper – called gels – which we use to change the color of the lights."
He said differences in color temperatures illustrate moods and time of day. For example, cool temperatures – blue and purple – symbolize isolation, and warm temperatures – orange and red – portray anger. "Subconsciously we associate emotions with certain colors, and it adds another layer of depth to the scenes by letting the audience understand how the character is feeling," said Greene. "Lights are behind the scenes, and you might not notice them right away. But once you do, it enhances the show and adds more depth and complexity to it."
"When the audience sees all the elements – the sound, lighting, costumes, set, props and acting – come together, it really creates an amazing story," he continued. "A lot of hard work went into this play and, at the end of the day, it makes it all worthwhile."