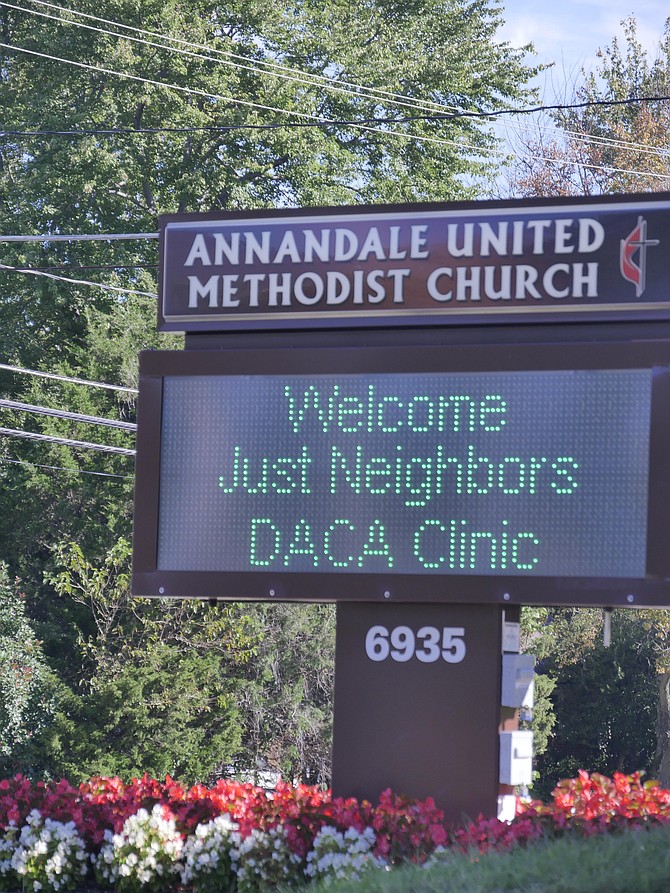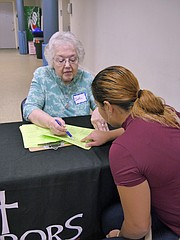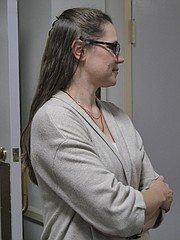 A sign outside Annandale United Methodist Church on Saturday, Sept. 23 read, "Welcome - Just Neighbors DACA Clinic." What the sign didn't say is that this would be the final DACA Clinic.
U.S. Attorney General Jeff Sessions announced President Donald Trump's Executive Order on Sept. 5 repealing Deferred Action for Childhood Arrivals (DACA). Current DACA recipients with a work permit due to expire before March 5 can apply for a two-year renewal but no new first-time DACA applications can be filed.
DACA is a program that allows individuals meeting certain requirements, who either entered the country illegally as children or remained, to receive a renewable two-year deferred action from deportation and be eligible for a work permit. However, a DACA permit is only a temporary protection and not a not a path to legal citizenship.
Erin McKenney, director of Just Neighbors Ministry, says 12 people were preregistered for Saturday's clinic with some walk-ins. Immigration attorneys would review the required paperwork to minimize errors and the possibility of missing the deadline. McKinney observes there haven't been a lot of people at the clinics recently. She speculates that maybe they are filling out the paperwork themselves. "I hope so." She says when they had "know your rights" clinics early this year, a lot of the people who first came out for the clinics were later afraid they would be identified and people stopped coming. They were worried that their families were unprotected.
McKinney added, "In general the immigrants feel let down by the repeal. They feel they are as American as anyone and have never known any other country."
Tori Andrea-Babington, an immigration lawyer with Just Neighbors and director of Legal Services for Northern Virginia Family Services, says about half of the applications are being processed by the United States Customs and Immigration Service (USCIS) "super fast and about half are taking about six months. I think there has been a serious effort to turn them around quickly."
The immigration lawyers stood outside a room of eight tables where applicants worked through a pile of papers. The lawyers will review the paperwork before it is sent to USCIS.
McKinney calls the lawyers her "bullpen." She said, "They are the saviors," and added, "we don't send anything forward that we think won't be approved. That just puts the applicant in jeopardy."
McKenney estimates there have been about 2,000 people with DACA permits in Northern Virginia since President Obama established the program by Executive Order on June 15, 2012. The Executive Order was issued after several failed attempts by Congress to pass permanent immigration legislation referred to as the DREAM Act bill. There were an estimated 800,000 individuals enrolled in the DACA program nation-wide as of September 2017.
A MOTHER SITS along the wall of the reception area with her 10-year old and 4-year-old daughters who translate for her. The mother is illegal, having come to the United States in 2005. Her two youngest daughters were born in the U.S. and therefore are U.S. citizens. They are waiting for the 17-year-old daughter to finish her DACA renewal application. The oldest daughter joins them in the lobby and said, "I'm kind of upset. I don't remember much about El Salvador, and my friends whose work permits expire after March 5 won't be able to get a renewal." They will be eligible for deportation.
To be eligible for DACA, a recipient must have come to the U.S. before their 16th birthday and prior to June 2007 and have been living continuously in the U.S. since June 15, 2007. They must have been under the age of 31 on June 15, 2012 and with no lawful status at that time. They must have completed high school or a GED, have been honorably discharged from the armed forces or be enrolled in school. They cannot have been convicted of a felony or serious misdemeanor.
Just Neighbors Ministry Inc. is a non-profit organization providing legal services to low-income immigrants in Northern Virginia, focusing on humanitarian cases. Fifty-eight percent of their clients live in Fairfax with 16 percent in Arlington and others in Alexandria, Prince William and Loudoun. Eighteen percent of their cases are for DACA. They have moved to a new location at 7630 Little River Turnpike in Annandale.
This is the first part of a series focusing on DACA.