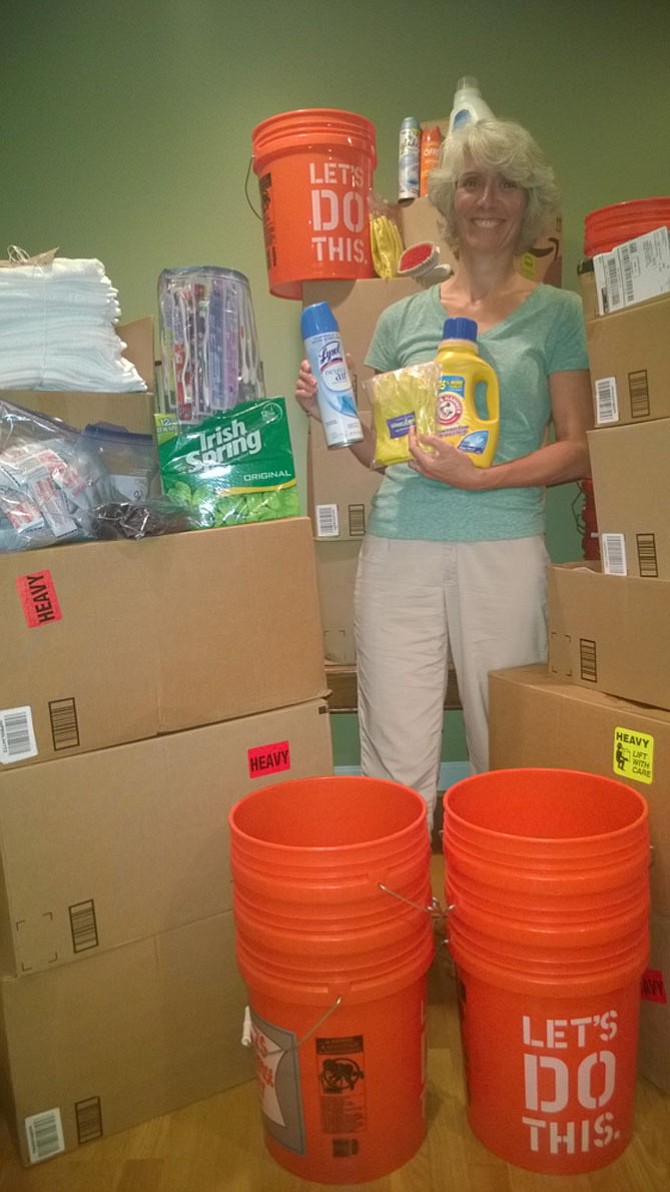 "I was ordering this before the hurricanes hit," explains Christie Johnson Tuesday night as she looks at large boxes of humanitarian relief supplies stacked in her kitchen and dining room. She is ready for a special service Sunday at the Fairfax United Methodist Church, where members will welcome anyone willing to participate in outreach missions. They will collect winter coats and accessories for the homeless, gently used brassieres women can sell in developing nations and backpacks for school children in the Philippines.
That's not all.
They have to assemble 300 personal hygiene kits and fill 25 flood buckets with cleaning supplies for survivors of natural disasters – most recently Hurricane Harvey Aug. 25, Hurricane Irma Sept. 6, an 8.1 magnitude earthquake in southern Mexico Sept. 9, a 7.1 magnitude earthquake in central Mexico Sept. 19 and Hurricane Maria Sept. 20.
That's five natural disasters in less than a month no one could predict – especially FUMC last spring, when the congregation raised funds in a Lenten season drive to benefit various church missions.
"We were blessed with more than we usually collect," said Johnson.
CHURCH MEMBERS wanted more hands-on mission projects available for multi-generational opportunities in a short amount of time. An "Outreach Sunday" event set for Sept. 24 was an answer to the surplus.
"You've come for two hours and you've done something amazing," Johnson illustrates. She and her mother-in-law spent considerable time online ordering disaster relief supplies in bulk to make those dollars stretch and fill as many critical needs that $3,500 can buy.
The FUMC team received an additional $2,000 in donations in just three short weeks. The money will go to the United Methodist Committee on Relief. This Atlanta-based charity will distribute aid to first responders in disaster areas and give them cash to buy exactly what they need and inject money into the local economies hardest hit by recent hurricanes and earthquakes.
Johnson is a firm believer in divine providence and states "You can't see the future but God can." This effort has been done before at the church as a routine measure to help UMCOR maintain 10 emergency supply depots nationwide, including Mission Central in Mechanicsburg, Pa.
"Methodism is faith in action," Johnson affirms. The fact UMCOR is one of several faith-based partners of the Federal Emergency Management Agency is a testament to the perfect timing of this small effort in Fairfax to help other churches in Northern Virginia make similar contributions to the greater good.
THE EVENT starts at 10 a.m. in the sanctuary at 10300 Stratford Ave. in Fairfax with a dual service of FUMC and the Ghana Wesley United Methodist Church. People fuel up downstairs at 11:30 a.m. in the Fellowship Hall then roll up their sleeves to help others here and abroad at mission workstations set up nearby in multipurpose rooms.
Find Fairfax United Methodist Church on the corner of University Drive and Stratford Avenue or visit their website at www.fairfaxumc.org. Some other places to lend a hand:
Help the Lamb Center at 3160 Campbell Drive serve the poor and homeless in Fairfax at www.thelambcenter.org.

See how victims of human trafficking rebuild their lives at freethegirls.org.

Learn how to assemble disaster relief kits at www.umcor.org.

Visit the Mission Central warehouse online at missioncentral.org.
Marti Moore has been an inactive member of Fairfax United Methodist Church since 1997 and prays she can show up Sunday mornings on a regular basis.