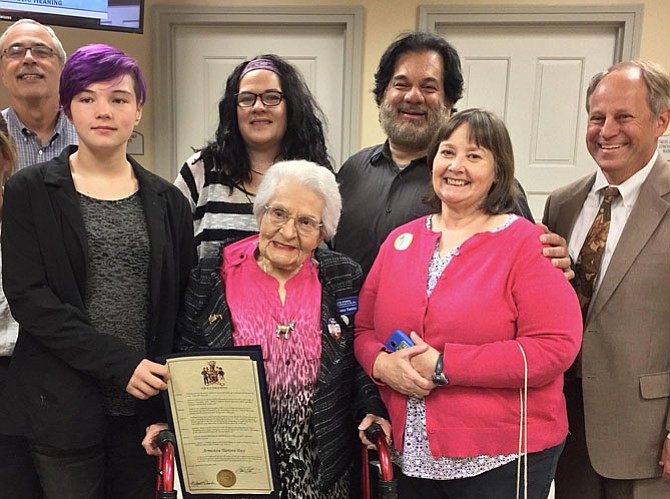 Fairfax — Armistice Turtora would have been 91 on Nov. 11. And although she died Oct.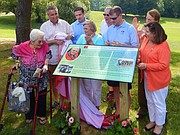 10, just a month shy of her birthday, she knew how valued she was by the City she called home for the past 58 years. Last November, in honor of her six decades of service to her community, the City of Fairfax proclaimed her 90th birthday Armistice Turtora Day.
"Armistice Margaret Askabedian Turtora had strong opinions and wanted others to, as well," said daughter Janice Zagardo. "She did not abide bystanders; she valued passion and commitment to a cause. And she sincerely loved the City of Fairfax, the arts, her lace community and her grandchildren."
As if Turtora's parents knew their daughter would someday accomplish significant things, they gave her a meaningful name. The U.S. formerly observed Nov. 11 as Armistice Day, in commemoration of the 1918 signing of the armistice (agreement) ending World War I. So when Turtora was born in America on Nov. 11, 1926, her immigrant parents of Armenian heritage named her Armistice.
"Her mother loved the beauty of Syria and talked about it longingly," recalled Zagardo. "One day, Armistice asked her, if it was so beautiful, why did she leave? Her mother responded, 'Without good government, you have nothing.' It was years later that Armistice realized the impact these few words had on her."
"Her mother set the stage – not only for Armistice's exhausting commitment to civic involvement – but also for her encouragement and outright insistence that others also get involved and speak their minds to get the important work of government accomplished," explained Zagardo. "To top off her love of freedom and good government, she was married on the Fourth of July. We never had a good excuse to forget her special days."
TURTORA MOVED TO FAIRFAX in 1959 and, as a wife and mother, became active in her neighborhood as part of the newly created Country Club Hills Civic Assn. She was a block captain and her community's newsletter editor and president.
She also organized and served as the first president of the City of Fairfax Federation of Citizens Assns., organized the Bicycle Path Committee and designed costumes for the Fairfax Community Theatre. From 1959-84, she was a member of the City's League of Women Voters and even served as its chairman. And she worked on voter-registration drives, as well as open-space and education studies.
In addition, Turtora chaired the City of Fairfax Democratic Committee – which was groundbreaking because she was the only woman on the committee. She also worked on many political campaigns and at the polls on Election Day.
And for the past decade, she served on the Commission on the Arts. An expert at making handmade, knotted lace, she also taught at Nature's Yarns in the City. A lifelong member of the Chesapeake Lace Guild, she won numerous awards and accolades for her work.
Turtora's love of design also led her to Northern Virginia Community College, where she studied everything from architecture to business. Zagardo said her mother's keen interest in local development issues "fueled her desire to study these topics that inspired her most complex questions."
Turtora attended City Council meetings regularly and got to know the issues and decision-makers well. "She was passionate about the City," said Zagardo. "If she saw a problem, she would volunteer a solution or find someone who could help figure it out. She would study it and insist others do the same."
Her initials, AMAT, spell out the infinitive form of the Latin verb meaning "to love." And, said Zagardo, "For many years, you could spot her as she tooled around Fairfax, sporting the vanity license plate, AMAT."

In 1969, Turtora became the first chairman of Fairfax's Parks and Recreation Board, which she helped establish, and she tirelessly advocated for the purchase and development of parks throughout the City. When Van Dyck Park was built during the '60s, she fought to keep its open field – known as "The Bowl" – as a place for unscheduled play and activities. And in June 2016, that spot was officially renamed Armistice Turtora Field in her honor.
"The moment she moved into that City, she was in love with it and its people," said longtime friend Jan Price. "She really dedicated her life to it."
BEYOND TURTORA'S PUBLIC FACE, however, was a woman who loved her family and friends. "She was a devoted grandmother, suffering all the requisite ball games when she was in town," said Zagardo. "She never missed a grandparents' day – even after we moved 1,000 miles away."
"But her real love was experimenting with her children's and grandchildren's creativity," continued Zagardo. "They still tell stories of the things she let them do and experiment with. She thought outside the box and loved to play with toys and gadgets. She was fascinated by tools and how to use them, and she was an avid collector with enough projects lined up for many more lifetimes."
Turtora even helped her daughter handmake her wedding dress and her bridesmaids' gowns. "What a good time we had hunting all over New York City for just the right piece of lace," recalled Zagardo. "It was so much fun to create and engineer with her – we rarely followed any pattern exactly."
She said her mother's creativity was boundless and her imagination without limits. "She was a can-do person who always saw the glass half full," said Zagardo. "She believed, 'If you want to do something, just do it.' And she was happiest socializing and engaging others in conversation."
Growing up, said Zagardo, "Our house was always filled with friends. And she never turned away friends because the house was a mess. She and dad would put you to work in the kitchen helping to prepare a meal as soon as you entered. You were always welcome and you felt like family. If you weren't cooking, you were creating.
"She was also a great listener and saw genuine value in each and every person she met. She set a beautiful example for us without even knowing it. 'Don't talk to strangers?' Nope, not in this family. She taught us that every stranger is potentially your new best friend."
A memorial fund has been established to secure a piece of art to celebrate Turtora's life. Fittingly, it will be placed in Van Dyck Park, near Armistice Turtora Field. Donations payable to Fairfax Foundation for the Arts, The Armistice Turtora Art Fund, may be mailed to: Fairfax Commission on the Ar