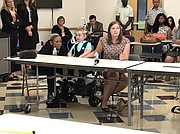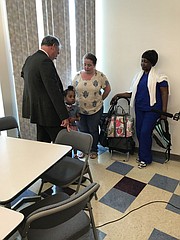 Corinne Kunkel, a Newington resident, and her 5-year-old son, Dylan, are just one of the 600,000 children in Virginia who benefit from Medicaid. At 2 months old, Dylan was hospitalized and went through many different surgeries and medical procedures. Eventually at about 12 months old, he was diagnosed with a rare neuromuscular condition called SMARD (Spinal Muscular Atrophy with Respiratory Distress).
"He requires in-home skilled nursing services, and he also requires a nurse to attend school with him," Corinne said. "For us, affordable and quality healthcare means that Dylan can lead a fairly normal life despite his medical issues. He can live at home, go to school, and participate in the same types of activities that any kid his age enjoys."
Dylan gets his nutrition through a G-tube and relies on a ventilator to breathe. Medicaid provides the bulk of Dylan's health care costs. Though Corinne and her family are covered by their private insurance, it does not cover all the care Dylan needs to receive.
Corinne and her son Dylan, among other concerned parents, pediatricians, and children were invited to share their stories at Sen. Tim Kaine's (D-VA) roundtable on the Senate Republican health care proposal at the Northern Virginia Community College Medical Education Campus in Springfield. The primary focus of the roundtable was to discuss what proposed Medicaid cuts would mean for the thousands of children dependent on the program.
"For so many Medicaid is about enabling them to live more independently, enabling them to be more successful in school – and that's really what Medicaid does for our kids," Kaine said.
Kaine went on to point out that so far the health care bill is met with strong opposition from Virginia residents.
"The response has been, frankly astounding. In 18 days, my office has received 11,104 calls and letters about the Senate Republican health care proposal. Two percent of those are in favor of it. Ninety-eight percent of those reaching out to us are against it."
Speakers at the roundtable included: Corinne Kunkel and her 5-year-old son Dylan; general pediatrician James L Plews-Ogan; foster parent Angie and her daughter Anna; Jen Reese and her 9-and-a-half-year-old daughter Cailyn; Kim Crawley and her son Isaac; Amy Clifford and her son Declan; and Samuel T. Bartle, MD.
The conditions the young children carry varied from Cerebral Palsy, Metabolic bone disease, genetic anomaly, and feeding tube dependency – among others.
"[It's important to note] the ripple effect Medicaid has in being present and being absent," said Bartle.
"It's not dollars, it's about lives," he said.