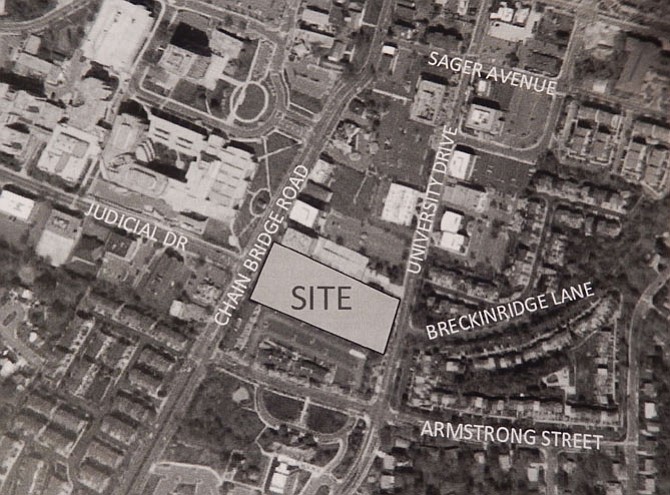 "You're going to build and move on, and the community is going to be left with the challenges." — Councilman Jeff Greenfield
The Davies property is 2.69 acres between Chain Bridge Road and University Drive in the City of Fairfax. And in May 2016, Paradigm Development Corp. proposed replaced the existing house there with 315 apartments in a six-story building.
After review by City Council, City staff and the public – which decried the high density and tall building – the plan was scaled back to 258 apartments and was later withdrawn altogether. Now, the applicant proposes 45 townhouses in four-story buildings and the Council discussed it at its Oct. 10 work session.
Some 37 of the homes would be 22 feet wide and located along the north and south sides of a private street. The other eight homes, each 20 feet wide, would front on Chain Bridge. Access would be via University onto the private street.
"It would have a density of 16.9 dwelling units per acre," said senior planner Paul Nabti. "Staff believes a rezoning to residential townhouse or planned development would be better than what's requested, which is multifamily."
The applicant also proposes 164 parking spaces – 90 in garages plus 74 on the driveways of the 22-foot-wide units. There'd also be sidewalks, as well as a path along the south side. However, no visitor parking is planned, and Nabti said the City has never approved a townhouse project with no parking for guests.
He said the homes are anticipated to generate 10 students over a long term, and Councilwoman Janice Miller said she was concerned that full-sized school buses for special-ed students might not have enough space to park on University. And, she added, "There's virtually no green space for this project. And I think the massing of the number of townhomes is excessive."
THE BUILDINGS' FOUR STORIES – estimated to be 42 feet high – would be above ground, with the fourth story within the roofline. But, said Miller, "The Davies property topography is 3 to 4 feet higher than the surrounding properties, so the townhouses' height could actually be 45 or 46 feet, and that's another concern."
"An RT [residential townhouse zoning] designation would take care of the density concern and increase the amount of green space, correct?" asked Councilman Michael DeMarco. Yes, replied Nabti.
Representing Paradigm, attorney Matt Roberts said they requested multifamily zoning for this property because "Single family isn't the best use of that site and multifamily use is a missing component in that corridor. And the RMF [residential multifamily] district provides the density we need."
"We're a development and management company," said Paradigm's Micheline Castan-Smith. "We heard from the community that it wanted luxury, for-sale townhouses for better resale values. We're providing 8-foot-wide pathways, two-car garages, plus two parking spaces in the driveways. There'll be high-quality architecture with an all-brick façade plus stone at the base and architectural variation at the [building] tops. And we'll adjust the grading."
"We're cutting down that site by 8-10 feet to get access from University Drive, so the townhomes will actually be lower," explained Adam Steiner, a landscape architect with Urban Engineering.
Responding to Council concerns, Castan-Smith noted that visitors could park in the townhomes' driveways and said, "We're trying to revise the plan to add additional visitor parking plus bicycle racks. And we can have the homes stepped and staggered to provide an undulating façade, instead of a straight wall. There's a green, planting strip in the [site's] interior, and we're working on [adding] more green space."
Councilman Jeff Greenfield said increasing some townhouses to 24 feet wide and eliminating some of the others "would decrease the density, while enabling you to increase the price [for the larger townhomes]. I can't support anything that doesn't have some community parking. If someone wants to have a party, they'd park everywhere else but this property – and that's not acceptable. And there are no public amenities. You're going to build and move on, and the community is going to be left with the challenges."
Councilwoman Ellie Schmidt asked if there'd be elevators, and Castan-Smith said they're being considered. "The density is a concern for me, as well as the [building] height along University Drive, guest parking and open space."
"It's packing as much as you can [into this site] for the economics," said Councilwoman Jennifer Passey. "But I agree with Mr. Greenfield and Ms. Schmidt about the parking and density." Passey also asked why Paradigm only proposed a 10-year, stormwater-management plan and not one for 25 years. And Clayton Tock, a civil engineer with Urban Engineering, said the 10-year plan would already result in a "drastic reduction" of water flow.
Miller then asked the City's Public Works Director, David Summers, for his input on this matter. "The 10-year storm is typically the maximum storm used for designing storm pipes and systems," he explained. "But if a storm exceeds the 10-year, [the resulting water flow] has to be able to travel without affecting the property owners."
"But climate change is resulting in a greater frequency of more intense storms," said Mayor David Meyer. "Are we accounting for this?" Reassuring him, Summers replied that the "algorithms and statistical data are updated every year, based on modern rainfall data."
DeMarco said a resident emailed Council a recommendation that the current access on Chain Bridge be maintained for emergency vehicles and for use when University Drive is closed for special events. He also asked about any potential traffic problems this project could cause on Chain Bridge Road's side streets.
Kevin Sitzman with transportation planners Gorove/Slade, said, "This development would generate an additional 30 trips an hour, but wouldn't significantly delay people on Chain Bridge."
STILL, said DeMarco, "We need to look at beyond a 10-year storm, plus access for emergency vehicles."
And Councilman Jon Stehle said he was interested in Paradigm's statement that residential development was needed to support the commercial development in the mixed-use corridor there. He then asked Brooke Hardin, the City's director of Community Development and Planning, if that's true, and Hardin said it is.
"This land has a good location in relation to downtown and walkability," said Miller. "So whatever's developed there will contribute to the retail and restaurants along Main Street and where T.J. Maxx is, and I think that's a good thing."
Meyer said what's still in play are this proposal's number of units, their width, façade, height, stormwater management, parking, access to the site and its impact on University Drive. Other concerns needing more information, he said, are site access by emergency vehicles, the amount of shared green space, the architecture, streetscape and price point.
"I know you have financial goals to meet," Meyer told the applicant. "But what's important to us is how this [project] fits and conceptually works for this site and relates to all the adjacent properties."