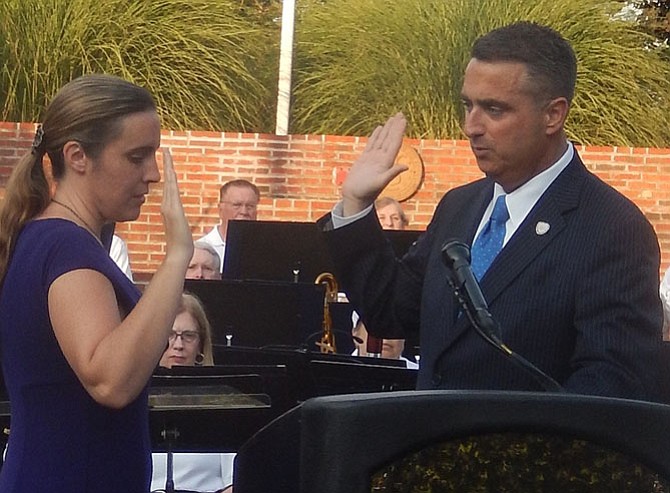 If someone tossed a live, hand grenade in the middle of Fairfax, it potentially wouldn't have caused as much damage or such utter shock and amazement as the news that Mayor Scott Silverthorne was arrested. And not for a traffic infringement, but for a felony involving group sex with men in exchange for drugs.
The announcement last Friday, Aug. 5, by Fairfax County police left the City both reeling and scrambling to deal with this unexpected and unprecedented situation. Its mayor was suddenly garnering national attention, but for something that brought negative publicity to both him and the City.
In a press conference Friday morning at Fairfax County Police Headquarters, Maj. Ed O'Carroll, the police Public Affairs director, presented details. "During the week of July 18, the Organized Crime and Narcotics Division [OCN] received information about a possible distributor of methamphetamine and immediately launched a criminal, investigative inquiry," he said. Police subsequently identified Silverthorne, 50, as their suspect and, following his arrest, charged him with felony distribution of meth and misdemeanor possession of drug paraphernalia.
Capt. Jack Hardin, OCN commander, said the whole thing began with a tip from a county resident "providing information and assisting us in obtaining information so we could properly investigate this case. [It] was about the mayor being possibly involved in a dating Website where he meets other men, and it was alleged that [he] was exchanging meth for sex."
Hardin wouldn't reveal the website's name. But, he said, "From information we received, we [knew] the type of person and activities the mayor was looking for. Once our undercover detective established a profile on the site, within two days, the mayor reached out to that detective on that Website and attempted to arrange a meeting."
DURING THEIR COMMUNICATIONS with each other, added O'Carroll, "The suspect [allegedly] advised that he could provide meth for sexual encounters. The detective agreed to meet [him] for a group sexual encounter in exchange for meth."
The meeting was set for last Friday at 7 p.m. at the Crowne Plaza Hotel in Tysons Corner, said Hardin. "Both the undercover detective and the mayor agreed to bring additional people to this meeting," he said. "The mayor was [allegedly] supposed to provide the meth, and the undercover detective was supposed to provide the hotel room."
But Hardin said Silverthorne "hadn't hooked up with his supplier, yet, and was planning on meeting him at that location. It just so happened that our detectives were in position to observe him meet with that person, and that's how we identified the supplier."
Hardin said Silverthorne met with the undercover detective in the parking lot, but the supplier was running about 20 minutes late. "Once the supplier showed up, the mayor [allegedly] left his vehicle, met with him and then came back to the detective with two grams of meth," said Hardin.
He noted that Silverthorne brought two people with him, one of whom was also arrested, besides the mayor and the supplier. Both the supplier and the other person charged were from Maryland. All three were charged with meth distribution and were taken to the Adult Detention Center for processing. Silverthorne was then released on personal recognizance and scheduled for arraignment this Wednesday, Aug. 10.
Hardin said the mayor didn't resist arrest, was "compliant and provided a full confession" about everything that transpired that night. "As far as I know, [Silverthorne] wasn't selling meth," said Hardin. "But [legally], it really doesn't matter if you're selling it or giving it away."
He also explained that exchanging drugs for sex was "the culture of this type of website. [But] no search warrants were filed; based on our information, it didn't appear he had large supplies of meth in his house." Hardin said police believe Silverthorne had engaged in this behavior "at least two times and, before each meeting, he would meet his supplier."
O'Carroll said police "felt it was imperative to come before the community" to share details of this incident as it unfolded. "These cases are tough to work, complicated and can become dangerous," he said. "I'm proud of the diligent work of the detectives over these past couple of weeks."
BESIDES BEING MAYOR, Silverthorne had been employed by FCPS since April as a substitute teacher. But after his arrest, he was fired. However, stressed O'Carroll, "By all the facts we know in reference to this case, all the parties were adults. We have no knowledge that any underage individuals were involved."
Still, detectives would like to speak with anyone having information about this case or similar cases involving these three people. Call police at 703-691-2131 or Crime Solvers at 1-866-411-TIPS (8477).
Silverthorne's attorney is Brian Drummond. However, he said, "Given the fact that I haven't had the chance to sit down and speak to my client about this, yet, I have no comment at this time."