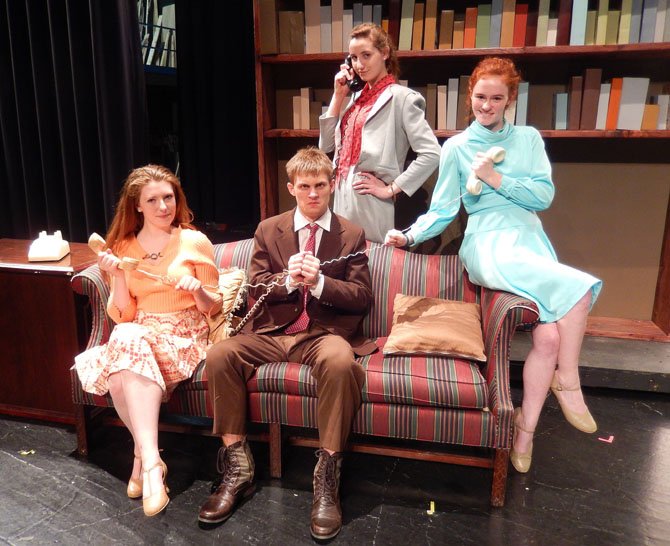 Featuring a cast and crew of 65, Fairfax High presents the musical comedy, "9 to 5," and first-year Director Erich DiCenzo can hardly wait.
"It's my first Cappies show and we're the first high school in Fairfax County to do this play," he said. "I wanted to bring something fresh to Fairfax."
Rated PG because of risqué language, it'll burst upon the stage Friday-Saturday, May 2-3 and 9-10, at 7:30 p.m., and Sunday, May 4 and 11, at 2 p.m. Tickets are $10 at www.fxplayers.org or $15 at the door.
"It's relevant to the audience because of the movie and to the students because it was on Broadway five years ago," said DiCenzo. "It's set in a 1970s workplace. Three secretaries are fed up with the glass ceiling at their company, so they take matters into their own hands. They kidnap their sexist boss and make changes to the office."
There's a 12-person orchestra, plus more than 200 costumes. "They're in bright, cheerful colors to match the show's peppy tone and message about women's empowerment and how spreading positive energy can change lives for the better," said DiCenzo. "It's an escape from reality, and the audience will leave happier than when they came in."
DESPITE THE CHALLENGE of playing iconic roles that huge stars portrayed in the movie and play, he said his actors are doing so "effortlessly. They've embodied their characters, are extremely funny and have great chemistry among themselves. So it's a joy to see them creating all this happiness onstage."
Junior Doug Klain portrays Franklin Hart III, CEO of Consolidated Inc. "As the three women fantasize about killing him, he asks them if it's because he's a 'sexist, egotistical, lying, hypocritical bigot,'" said Klain. "He's comfortable with a workplace that's like an 'old boys' club' and doesn't want to change it."
"Hart's like someone everyone knows, so it's fun creating this character," continued Klain. "I get to bring out a strong reaction to him by both the audience and my fellow actors. And in one scene, I'll even be lifted up in the air via a garage-door opener."
He likes singing, "Here for You," because "it's so crude and Hart's fantasizing about secretary Doralee." Klain, too, said the show will leave people smiling. "It's so hopeful, it'll just make them feel good," he said. "And they'll be surprised to see such Broadway quality on a high-school stage."
Playing Doralee Rhoades is senior Emily Ennis. "She's essentially Dolly Parton – big hair and chest, and a big heart, too," said Ennis. "She's from Texas and is sexy, sweet, sassy, strong, confident and faithful to her husband, despite her boss's advances."
Ennis likes portraying Doralee because "she has some of the best lines in the show, especially when she's threatening to harm her boss. Her favorite song is "Change It," which she sings. "It symbolizes a shift in the office from a plain, dull, boring place to something with color, energy and excitement," said Ennis.
Noting that Parton wrote the music for "9 to 5," Ennis said the show has "great lyrics and infectious songs. And the sets, costumes and choreography [by DiCenzo and Andrea Heininge] add that something special."
Junior Caroline Silas portrays secretary Violet Newstead, senior supervisor and a widowed, single mother. "She's worked at Consolidated 15 years and never gotten a promotion," said Silas. "She's a completely independent woman who's on top of everything; she runs things and is very businesslike."
Calling this her favorite role in seven years of acting, Silas said, "Violet's serious and a strong female character; but it's also fun to see her crazy side come out. I love working with my two co-stars, Amanda and Emily; we've become good friends offstage, too, and it shows in our performances."
Silas likes singing, "One of the Boys," because "it's Violet's time to shine and you see a big change in her. And I love the six, different styles of music within that one song." Overall, she said, "It's a feel-good show. Students will enjoy it, and adults will see things they remember from the 1970s, so it'll be a blast from the past for them."
PLAYING THE THIRD SECRETARY, Judy Bernley, is senior Amanda Harvey. "Judy's meek and goes through an enormous transformation over the course of the show," said Harvey. "She's a remnant of the 1950s housewife who follows orders and doesn't cause trouble. She's never worked before, but has to now because her husband left her and ran off with his secretary."
Harvey, too, likes her role because "Judy's funny and exceedingly naïve. She does stupid things, but she's sincere – and that's what makes her so funny. She goes from being weak to sometimes exasperating, but someone you can respect." Harvey's favorite number is "I Just Might," sung by the three secretaries. "You see both how broken Judy is and how strong she can be," said Harvey. "You also see a different, more vulnerable side of the other two secretaries."
She described "9 to 5" as "the quintessential, real-life, happy ending. The show's peppy and exciting, but realistic in its way. The precise choreography definitely stands out, as does the magnitude of the vocals. Almost all involve groups, and an exceptional range of music styles is represented throughout the show, so there's something everyone will enjoy. Every person onstage radiates life and will really enliven the audience."