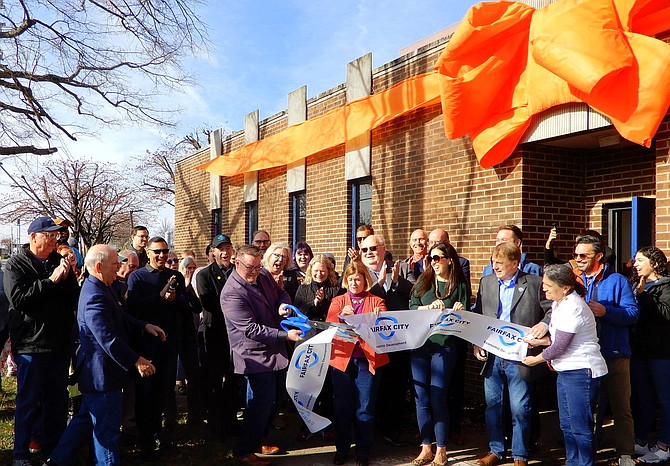 Nova Labs in Fairfax City is like a theme park for creative people. But instead of rides and rollercoasters, it's a huge indoor space filled with the tools, equipment, classes and experts they need to create practically anything they can imagine.
And this 27,000-square-foot makerspace at 3850 Jermantown Road (behind H Mart and across from Katherine Johnson Middle School) held its official grand opening and ribbon cutting March 18 to much fanfare and jubilation.
"This filled a need we didn't even know we needed – an intergenerational makerspace, for the youngest children to retirees, to discover what can be made on the cutting edge of technology," said Fairfax Mayor Catherine Read. "And there's even a free, CUE bus stop in front."
A volunteer-run nonprofit, Nova Labs is the ultimate workspace where hobbyists, inventors, tinkerers, artisans, engineers and entrepreneurs can create and collaborate with others to achieve their dreams. It offers them access to resources – from common tools to advanced machines, 3D printers and fabrication equipment – they can use to design and prototype their projects and turn them into realities.
Its slogan is "Rediscover the Joy of Making Things," and members enjoy 24/7 access. They also help co-manage the space by teaching classes, maintaining their equipment and promoting making to others. And Fairfax officials are delighted to have it in their community.
"This was a joint effort on behalf of so many people – including the previous mayor and City Council – who had the vision to put this in place," said Read. And indeed, past Mayor David Meyer was among the ceremony's attendees.
Economic Development Authority Chair Kathleen Paley said Councilmember Jon Stehle first approached her about encouraging Nova Labs to come to Fairfax when she "didn't know what a makerspace was. What makes Nova Labs amazing is that it's giving an outlet to adults at the end of a dull workday, inspiring them and letting them create."
"We're excited about having Nova Labs as part of our community," added Doug Church, Central Fairfax Chamber of Commerce chairman. "We enjoy the partnership between it and the City and have watched it evolve. The support from the mayor, Council and Economic Development Office [EDO] has been wonderful. Nova Labs is unique to us, and we're proud to have this gem in our city."
Agreeing, Brian Jacoby, an original founding member of Nova Labs, said, "It's gratifying to see this taking place."  
Nova Labs Board President Bradley Matthews said his grandfather, a machinist, inspired his creativity. "I learned that, with the right tools, support, knowledge and community, you can build anything," he said. As an adult, he became a banker; but when his son broke a chair and he was able to fix it, his creative juices started flowing again.
"I started woodworking and then created a tool to make DIY [do it yourself] more accessible for non-makers," said Matthews. "And I'm now working toward a patent for it. Nova Labs is about inspiring the child to build for the future, and the hobbyist with the spark of an idea, who could create the next invention." Then he invited the crowd inside to "see the space and find the inspiration for yourself." 
Nova Labs began in Reston in 2011 but left there in 2022. Matthews said it moved to Fairfax for three reasons:
* "The City's central location in Fairfax County, opening up a new opportunity in the southern part of the county to our members.
* "The City and EDO are focused on building businesses, so we also have our Innovation Center here – 10 offices and 20 members trying to build their businesses.
* "The focus on youth programs. About half the students in Fairfax City are below the poverty line; but we can stop that cycle by equipping them with the knowledge and fearlessness to build their future. We offer summer school and summer camps, robotics and ongoing youth programs. There are different membership levels, but we have scholarships available for these students and can offer discounted and free programs, as well."
Daytimes, non-summer, the facility usually attracts 20-30 people at a time. Saturdays and Sundays, hundreds come to "work on their projects, hang out and socialize with like-minded people," said Matthews. "It's not just about the tools, it's also about the community."
The front of the building contains a laser lab for laser cutting, 3D printing and thermoforming (heating plastic-polymer material and shaping it in a mold); a studio for resin pouring, jewelry making, stained glass activities and airbrushing; and a crafter's cove for crafting, quilting and cosplay (making costumes of characters from movies, books or video games).
The back of the building has areas for robotics, taking apart things, tiny drones, blacksmithing, welding, metal working, woodworking and mixed-media pursuits. And during the grand opening, attendees got to visit each area and watch the artisans in action working on their projects.
People may create things just for their own satisfaction or can learn how to turn these items into a business. "Our Innovation Center brings in, for example, patent attorneys, experts in getting funding – everything you need to get that first product built," said Matthews. 
For example, an engineer who worked with solar panels for his day job met a person at Nova Labs who created plastic snowflakes on a laser cutter. The engineer knew people didn't want to install solar panels because they're ugly, so he asked the craftsman if he could incorporate his snowflakes to make the panels prettier and more attractive to customers. 
Ultimately, said Matthews, that craftsman "got grants to start building [this project] for the Department of Energy. And now he has a full business and recently got a half-million-dollar grant from the Department of Energy to move it into production. So he went from an idea and a chance encounter with an engineer from the community to getting grants and creating a business. If you can imagine it, you can build it."
Glad to finally have Nova Labs up and running in its new home, Matthews said, "This has been a marathon at a sprint's pace. It's taken under two years – finding a building, securing loans, getting Council approval, building plans and permits, plus 10 months of construction. This building was a phone-company's vehicle-repair spot. Sundog Productions made it a manufacturing building, we bought the whole building and now we lease some of it to them."
Surveying the scene, he said, "It's fantastic to see all the youth here, people making projects and others seeing what they can do. This is how people of all ages can maintain and grow their creativity and never lose it."
For more information, go to 
https://www.nova-labs.org/
.