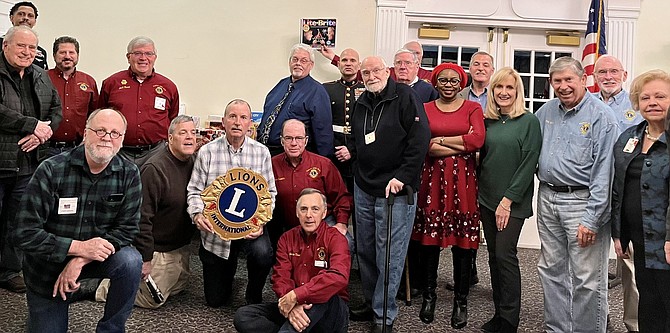 Representatives of the Marine Corps Reserve's Toys for Tots program visited the Fairfax Lions Club for a special dinner, Tuesday, Dec. 6, at American Legion Post 177 in Fairfax. At that time, Gunnery Sergeant Simon Hebert and Hospital Corpsman Leonard Harding spoke to the Fairfax Lions about Toys for Tots and picked up toys donated by Lions Club members. 
The Lions also presented Toys for Tots with a check for $500, and individual Lions made their own monetary donations, as well. Toys for Tots recognized the Fairfax Lions Club with a certificate of appreciation.
The Lions Club motto is "We Serve." To learn more about Lions service in the Fairfax community, go to https://www.fairfaxlions.org/. Guests are welcome at any meeting.
Toys for Tots began in 1947 and, each holiday season, provides toys to deserving children across the U.S. More than 627 million toys have been delivered to those children since 1947 – averaging more than 8 million toys each year.