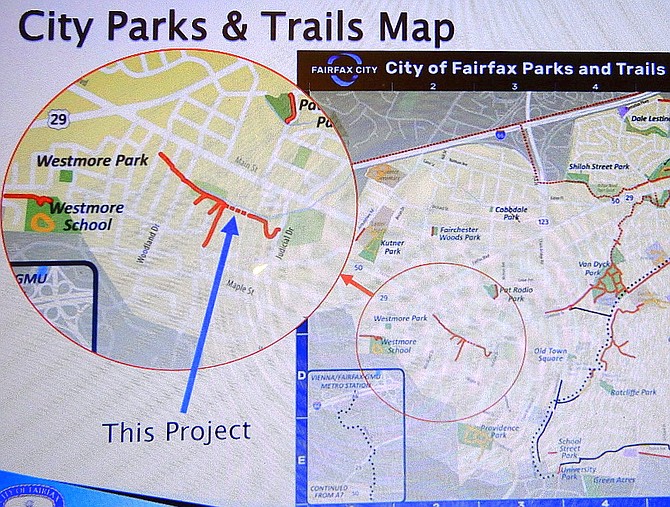 As things stand now, people wishing to walk or bike between Hallman Street and Judicial Drive in Fairfax City are unable to do so without having to leave the existing trail and get back on elsewhere. That's because approximately 500 feet of trail between these two points hasn't been completed.
However, the City has a right-of-way that allows for the construction of an 8- to 10-foot-wide trail there. So it will be able to provide the missing link via its Judicial Drive Trail Connection Project.
On the western end, the trail will connect to the already finished portion at Presbyterian Way. On the eastern end, it will join with the already built portion on the Jaguar/Yorktown parcels.
In addition, this connection will give people an ADA accessible trail on public right-of-way and will no longer force trail users to exit onto the Presbyterian church parking lot and then use the current switchback trail – which is not ADA accessible. As a result, the missing section going from Presbyterian Way to the trailhead that dead ends at the Fairfax Nursing Home property line will finally be constructed.
This project is federally funded through the Transportation Alternative Program (TAP) with a 20-percent match from the City. The total cost is $436,000, which includes $348,800 in TAP money, plus the City's portion of $87,200.
Nick Soucie, an engineer with Timmons Group, presented updated details during a recent Fairfax City Council meeting. "The trail would be constructed fully within the City's easement," he said. "It would be an 8-foot-wide, stone-dust trail. Final plans will be developed this spring, with advertisement for construction happening in spring 2022. We anticipate complete trail construction in spring 2023."
Although it was a public hearing, no one called in to the online meeting to comment, either way. And Councilmember Janice Miller noted that the City had already adopted this project in its FY 19 budget.
"I'm supportive of this project," said Councilmember Tom Ross. "It'll be a wonderful addition to the City when it's completed."