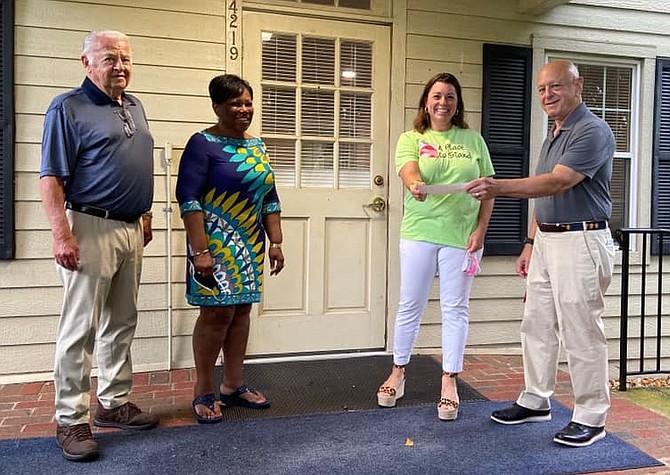 U.S. Rep. Gerry Connolly (D-11) recently honored The Rotary Club of Fairfax for its support of City of Fairfax schools. He read a proclamation to his colleagues in the House of Representatives, recognizing the club for helping these schools via its literacy programs, scholarships, plus contributions to nonprofit A Place to Stand's "Place to Eat" program, which has helped feed local students in need during the pandemic.
In fact, this week, the Rotary Club of Fairfax celebrates its 90th anniversary. It was chartered on April 21, 1931, making it one of the oldest clubs in the Washington, D.C. area. It's also one of the largest, with 91 active and honorary members. And, said Connolly, "These members share a desire to unite and take action to create positive, lasting change in their communities."
THE ROTARY CLUB also received special recognition, twice in late 2020, from the Fairfax City School Board for its significant contributions to City of Fairfax schools. For example, the club donated dictionaries and U.S. Constitution booklets, gave more than $20,000 in scholarships to seniors at Fairfax High, participated in the Read Across America program and sponsored speech and essay contests.
Rotary International's motto is "Service Above Self," and the Rotary Club of Fairfax has truly taken this spirit of volunteerism to heart. For example, last year, when Fairfax City schools partnered with A Place to Stand via its "Place to Eat" program to distribute food packages to school children who were most vulnerable, the Rotary Club of Fairfax raised almost $9,000 to support the cause. Rotarian Bogram Setty initiated the donations from other Rotarians and ended up being the largest donor – and more than 250 Fairfax City families didn't go hungry.
Earlier this year, the Rotary Club of Fairfax distributed Webster Dictionaries to all third-graders in the City, as well as Constitution booklets to the eighth-graders at the former Sidney Lanier Middle School, renamed Katherine Johnson Middle School. And the Rotarians' Constitution distribution and March virtual meeting with the Johnson Middle students were highlighted on the Fairfax County Public Schools Website. Hosted by civics teacher Ryan Sterzinger, it resulted in a discussion among the students, faculty, Rotarians and Del. David Bulova (D-37).
In addition, the club continues to support City schools by sponsoring a speech contest at Fairfax High and an essay competition for middle-school students. The most recent speech-contest topic was this year's Rotary International theme, "Rotary Opens Opportunities." Senior Sala "Lena" Asha-Camp won the Fairfax High competition and then went on to win the Rotary District 7610, Area 9, speech contest in April.

The Rotary Club of Fairfax also supports a school and literacy project in Guatemala, local charities, an exchange-student program, Teacher of the Year awards in the City of Fairfax, and many other projects to help those in need and to build positive relationships around the world.
"As someone who comes from local government, I understand firsthand how important community organizations are, and the important role they play, in strengthening communities by providing vital opportunities and services," said Connolly. "The Fairfax Rotary Club is a part of helping our communities thrive."
THE CLUB meets Mondays at 12:15 p.m., currently on Zoom. For more information, go to http://www.fairfaxrotary.org/.
– Christie Majors contributed to this story