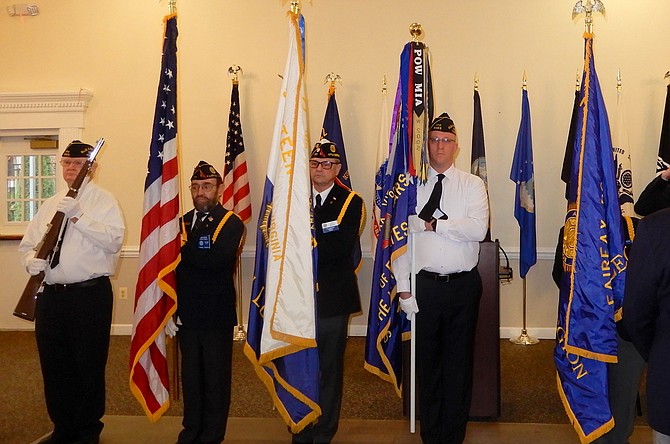 At the outset of Fairfax City's Veterans Day ceremony last Friday, Nov. 10, VFW Post 8469 Chaplain Marcus Kuiper prayed to God "for all who answered the call to duty – those who selflessly served and were courageously prepared to lay down their lives for the cause of freedom.
"Hear our prayer for those who put the welfare of others ahead of their own, those who served and returned safe and whole, and those who did not. May the example of their sacrifice inspire us in our daily lives."
American Legion Post 177 hosted the ceremony, along with VFW Post 8469 and 5412. Besides local residents and veterans, attendees included U.S. Rep Gerry Connolly (D-11th), Del. Dan Helmer (D-40th), Fairfax County Sheriff Stacey Kincaid. Fairfax Mayor Catherine Read and City Councilmember Tom Ross.
VFW Post 8469 Commander Mac McCarl said he'd spoken at a Veterans Day event, the previous day, at his granddaughters' elementary school. He told the children about his 30 years in the Army, including seven years as a paratrooper in the 82nd Airborne Division. It's important to teach them about the nation's veterans, he explained, because one day, they'll be the ones called upon to serve their country.
Calling veterans part of the nation's fabric, McCarl said, "They have both great pride in their service, and darkness, and it comes from being under stress and in combat. And as we look today at a very dangerous world – with Ukraine, the Gaza Strip and the expanding combat in the region, and a simmering problem in the Pacific with Taiwan – it's a reminder that we have to be vigilant and prepared."
He said Americans have always stepped up in a crisis and have a right to expect a few things from their government, in return. "The first is being sure they know the causes of the fight they're being asked to enter," said McCarl. "Second, they must understand the character of that war – large or small scale, and with what kind of tactics, including IEDs, drones and things we haven't even thought about yet – so they'll be organized, trained and equipped for the fight.
"And third, when it's over, there's an obligation for care and recovery – because when veterans return from conflict, many are damaged physically and mentally. The VFW is currently tracking 110 veteran-focused pieces of legislation in Congress, and I ask our legislators to support them because they're important. God bless the USA and guide its leaders."
Connolly noted that, earlier this year, he visited WWII Gen. George Patton's grave in an American cemetery in Luxembourg and was struck by how pristine the grounds were. "It was so peaceful and tranquil, and yet those buried there didn't die [that way]," he said. "We can have no illusions about war; war is hell and must be the last alternative. And when we ask a young man or woman to go to war, we'd better have a compelling rationale to do it, because they're putting their lives on the line."
And when they return, said Connolly, they have wounds seen and unseen. "Some 6,000 American veterans commit suicide every year because of untreated trauma and unresolved feelings and experiences that created another casualty of war," he said. "We can and must do more for veterans, and the U.S. must continue to lead to try to help other countries resolve their differences in ways that don't create more casualties and wounded warriors."
As the son of an immigrant and grandson of Holocaust survivors, Helmer said the U.S. gave his family tremendous opportunities, so he wanted to give back. He attended West Point, and in August 2001, he and his classmates retook their oath to defend the country against all enemies, foreign and domestic. Two weeks later, 9/11 happened.
"Our nation was under unprecedented attack," said Helmer. "And for the 4,000 people at West Point, the sentiment was, 'We need to stand up, defend democracy and serve and protect America.' That feeling binds all of us as veterans – the recognition of what this country has meant to all of us and our families – some for generations, some who became American citizens through their service."
And while children here don't understand why distant, foreign conflicts matter to Americans, said Helmer, "Those of us in this room know it takes brave men and women to step forward and say, 'No matter the consequence, I want to keep this country free and safe.' We continue to inspire generations of future leaders, so I hope all of you will not only remember who you served with, but will also talk to a young person about what it means to serve, why patriotism is important and what having served in the military means to you."
Next, Mayor Read acknowledged women veterans, including her aunt, Maggie Josephine Catasca, who was among the first women to join the WAVES (Women's Naval Reserves) during WWII. She also noted that Catasca's two brothers served in the South Pacific. "So when we think about how being a veteran has changed since the American Revolution, we now see a military that reflects the diversity of our country," said Read.  
She further shared that, two weeks ago, she learned about the Golden Thirteen – 13 Black men recruited in 1944 to the Navy's Officer Candidate School. "They never knew why they were chosen," she said. "They completed their 10 weeks of training, passed their test – and because they all passed, it was thought they'd cheated. So they had to take parts of it over – and they all passed again and went on to have successful careers in the Navy."
One of them was Frank Sublett. "I'm Catherine Sublett Read, and the only Subletts in this country are descended from six Huguenot brothers who came here [from France] in the 17th century to Virginia," said Read. "I had no idea who Frank Sublett was but, somehow, he's related to me. And I'm astonished that there's so much history out there that we don't know about the people who've served this country – and the circumstances under which they did so.
"So on this Veterans Day, I ask us all to think about those we honor and the legions of people whose stories we'll never know, who also served and who are not necessarily recognized. Everybody gave their full measure to the democracy we all enjoy today – and for that, I'm grateful to every veteran who ever served."
While Sheriff Kincaid isn't a veteran, she said she and her husband (with the Virginia State Police) both serve the community as public servants. "We salute our veterans and truly thank you for what you've done for our country and the sacrifices you've made," said Kincaid. "We know freedom isn't free and, frankly, Veterans Day should be celebrated every day."
Noting that 25 percent of her staff are veterans, she said, "I'm proud of the work they've been able to do in Fairfax with our Veterans Treatment Docket [serving veterans in legal trouble due to addiction and/or mental-health issues]. We recognize folks are still suffering from what they've seen [in battle] and we owe them."
American Legion Post 177 Commander Eric Parkhurst said although he served five years active duty in the Army and another five in the National Guard, he had a desk job in Virginia, the whole time. So when he heard veterans talk about all they'd done, he didn't believe he was qualified to have that title, himself.
"But a veteran later told me, 'It doesn't matter where you served because, if you weren't doing what you did at a desk in the U.S., those guys flying those missions wouldn't have been able to do their jobs,'" said Parkhurst. "That hit home and made me realize I really am a vet and made a difference. So to all of you today, regardless of where you served and what you did, thank you. And if it wasn't for their families, our veterans couldn't have done the jobs they did."
He also related how, when he recently thanked a veteran for his service, that person thanked him for being someone worth fighting for. "Not everyone here is a veteran," said Parkhurst. "But everyone can be someone worth fighting for."
In Kuiper's closing prayer, he asked God to bless veterans and their families and fill their homes with His strength and love. "Help us to remember always and respect their sacrifices," he said. "Bring healing to those who still hurt and help them know You to find peace and happiness in their hearts."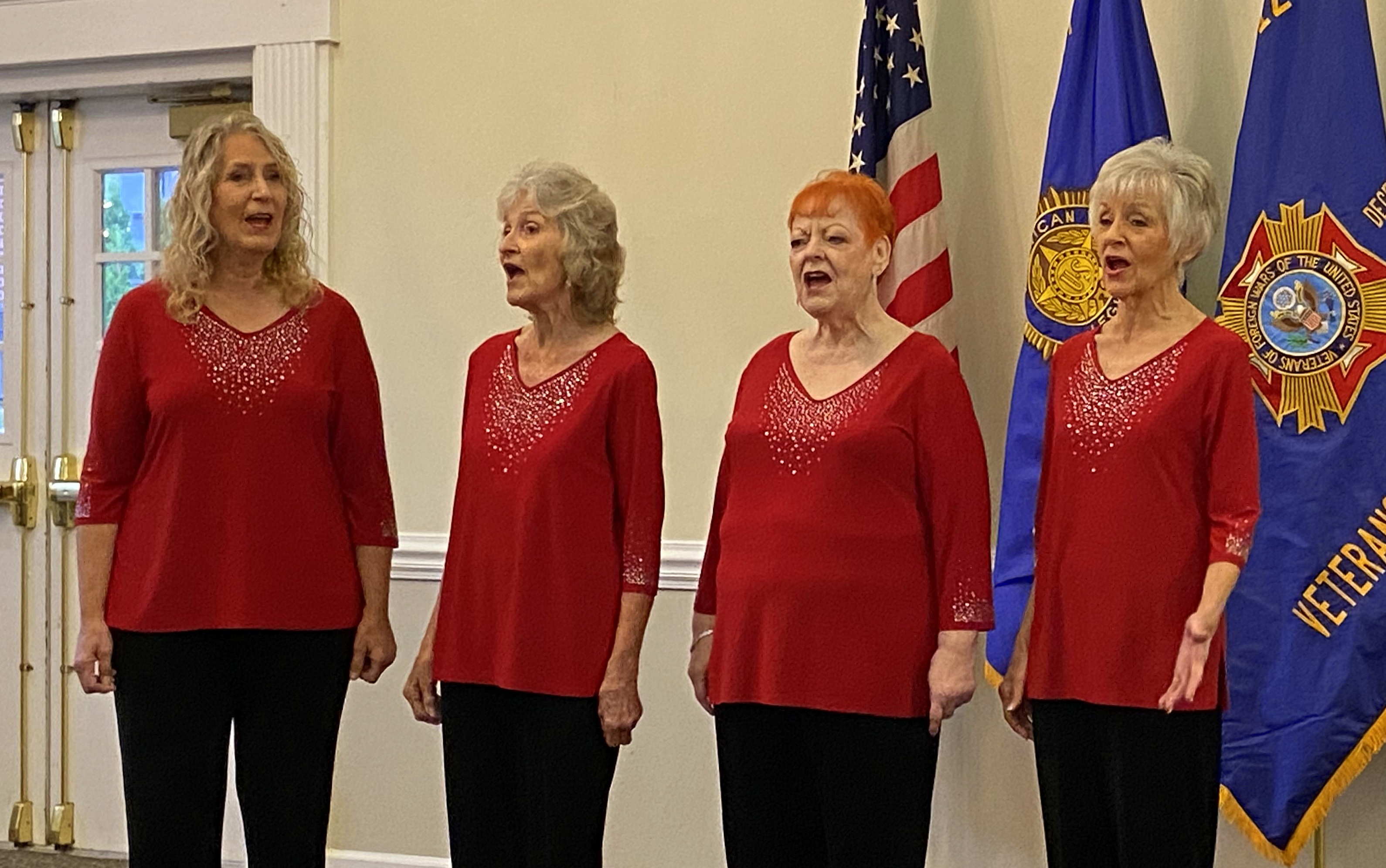 Women's barbershop quartet, The Unmuted, is Singing patriotic songs. From left are Lori Greenlief, Bonnie Ashley, Martie Gilliam and Beth Kimlick.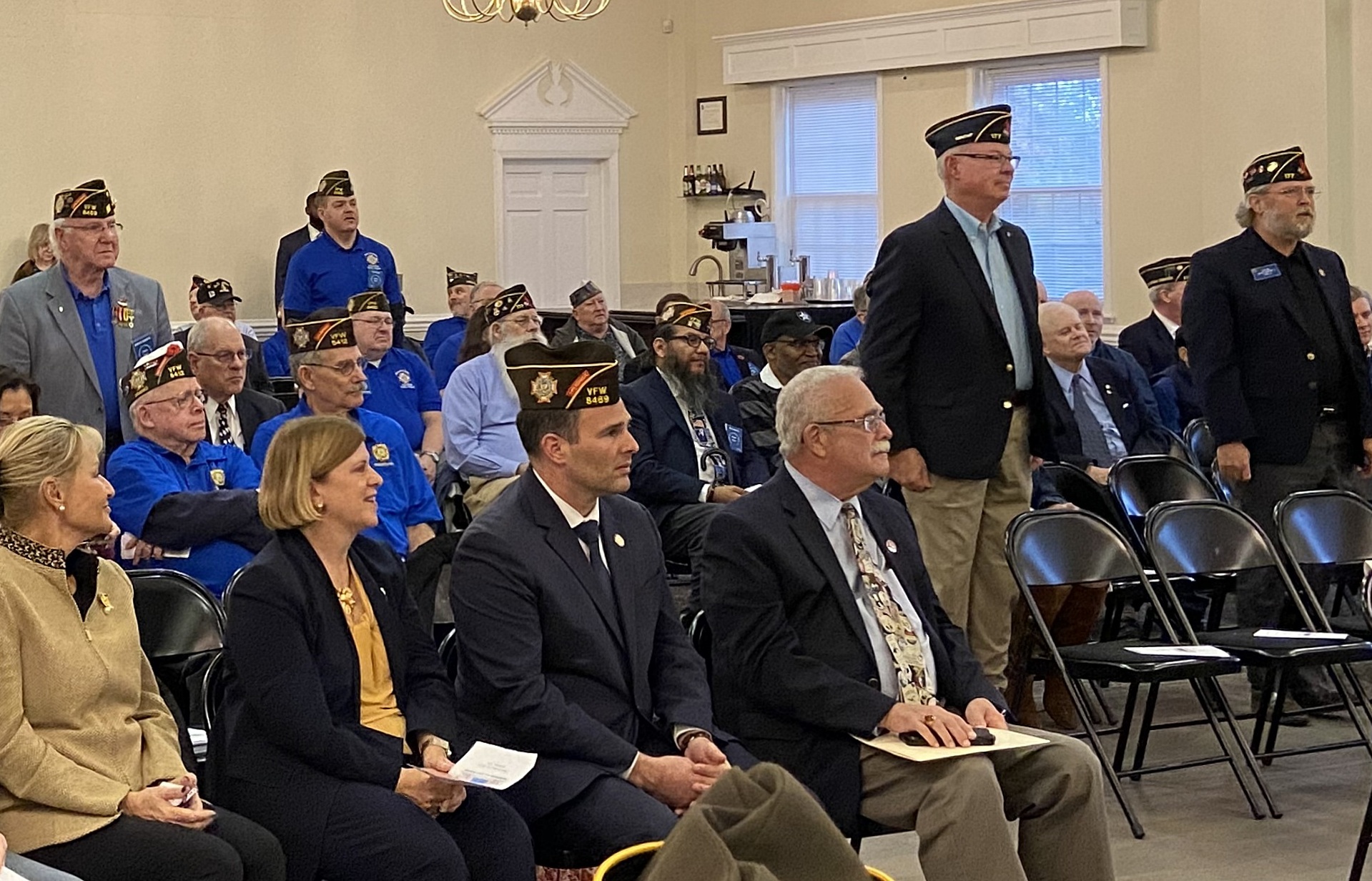 Front row, from left, Stacey Kincaid, Catherine Read, Dan Helmer and Gerry Connolly enjoy the armed forces song medley, as veterans stand for their service branch's anthem.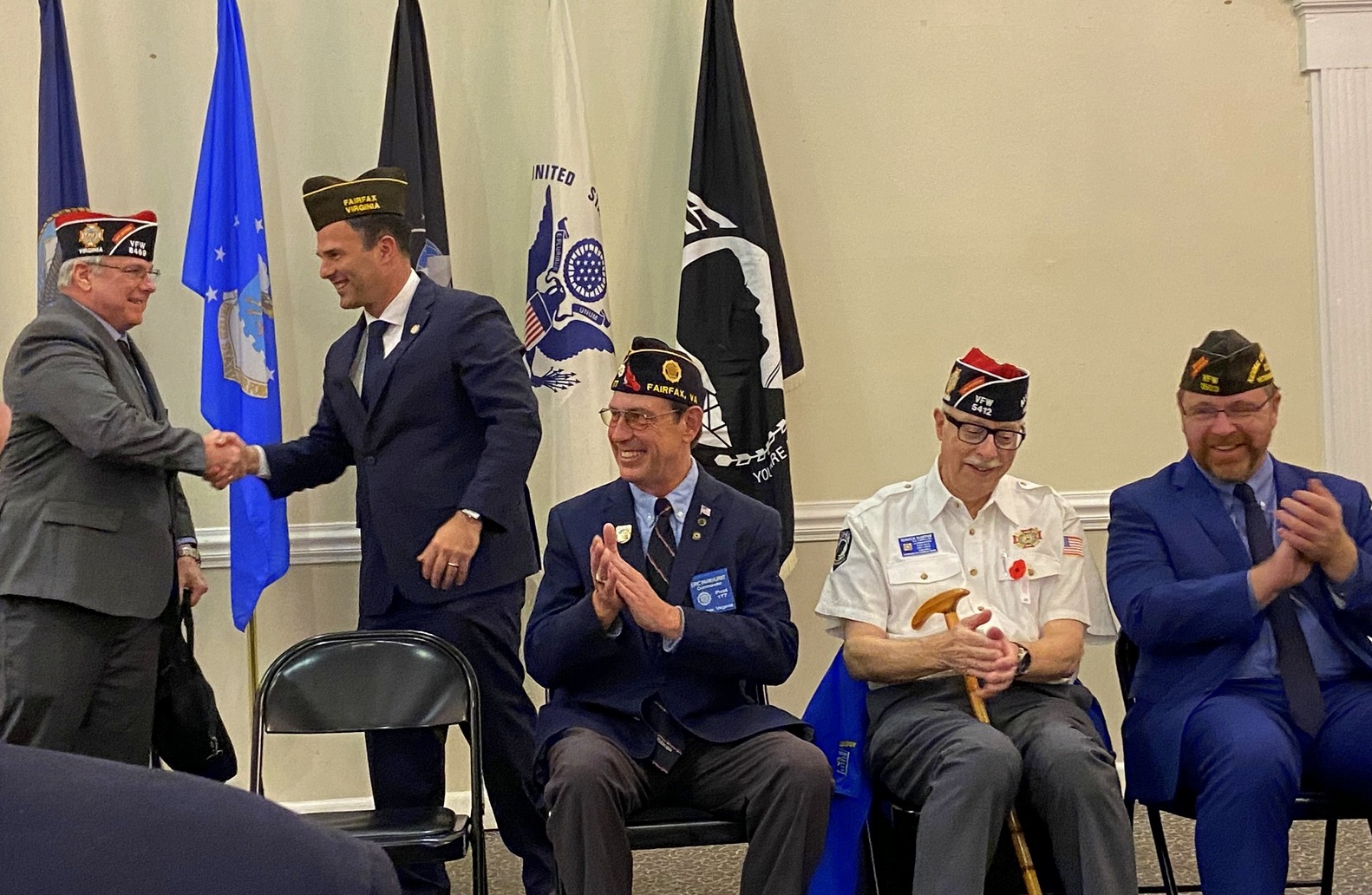 Sharing a lighthearted moment are (from left) Mac McCarl, Dan Helmer, Eric Parkhurst, VFW Post 5412 Commander Chuck Sleeper, and Ken Wiseman with the VFW National Council of Administration.