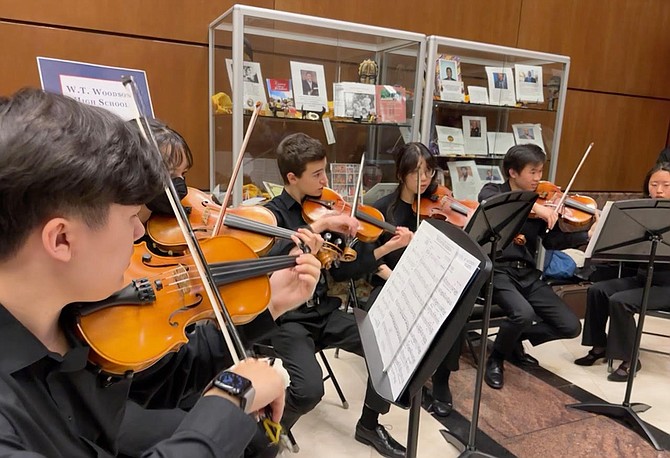 After a multiple year hiatus, in late December, Chairman of the Fairfax Board of Supervisors Jeff McKay told residents in his newsletter to 'save the date' for a 2023 New Year Reception.
After continuing past Chairman Sharon Bulova's annual reception tradition in the year following his election, McKay was forced to forego the event during the pandemic years in the interest of public health. Although the crowd may not have been as large this year, and many wore masks, clearly the traditional celebration is back and being enjoyed by many.
In a short program, McKay introduced his Board of Supervisor members and shared the microphone briefly with U.S. Rep. Gerry Connolly. Connolly served as Providence District supervisor for nine years, prior to his service as Chairman from 2003 to 2007, until his 2008 election to Congress. Connolly said that "local government, to me, is the most important and accountable level of government there is, even though it gets none of the respect other levels get." He said he knows that people call their local officials to solve problems and lauded performance in the county.
McKay thanked "an incredible staff and an incredible cadre of elected people dedicated to public service, not self advancement." He offered that, "We should also be proud of the fact that we made the investments that made this a high quality community with the lowest crime rates of any jurisdiction our size in America; the highest performing school system of any jurisdiction our size in America."
McKay made particular mention of county employees who continued to work through the pandemic ensuring on-going services. He credited first responders, people in the Health Department, those in Housing and Human Services, and the direct support given by community and medical nonprofits for getting the county through the pandemic as successfully as it did. 
McKay defined the two things that have made the county strong. "One is investing in infrastructure. That means every aspect of our schools, public services, low crime, Human Services, library, parks; all the things that we need in Fairfax County to be successful." The second factor he described is a "very proud and inclusive, proudly international community. One that celebrates diversity every single day, this population and the talents of the people that live here."