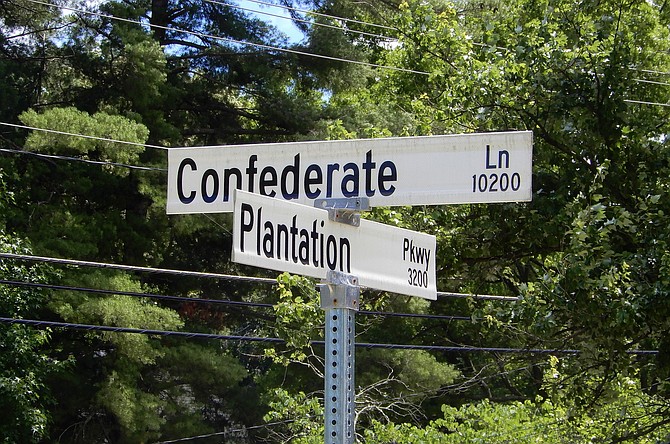 Following a rise in the nation's consciousness about the need for racial justice and healing, in fall 2020, Fairfax City Council developed "Connecting Fairfax City for All." This initiative sought a way for Council to better listen and learn from the community to inform its decisions that would create a more equitable and inclusive future City for all its residents, businesses and visitors.
That led to Council's January 2021 creation of a diverse, 16-member, Stakeholder Advisory Group (SAG). Recognizing there's strength in community diversity and inclusion, Fairfax leaders acknowledged the need for a broader conversation about the City's racial and social equity, historical past, systemic racism, symbolism and identity.
Council then directed the advisory group to examine City streets and neighborhoods that were named for specific, confederate leaders/soldiers or were closely associated with the confederacy, slavery or the "Lost Cause." (Considered a myth or legend by many historians, the "Lost Cause" presents the Civil War from the Confederates' perspective and in the best terms possible.)
After extensive research and community engagement, the Stakeholder Advisory Group concluded that, by having streets named in honor of Confederate heroes and imagery, the Mosby Woods neighborhood perpetuates that myth. However, the first phase of houses built in that neighborhood was in 1961 – four years before the City schools were even desegregated. 
The developer suggested the name after seeing a Mosby's Midnight Raid historical marker in downtown Fairfax. And officiating the community's dedication ceremony in June 27, 1961 was Virgil Carrington Jones, author of the book. 
In April, about 100 people provided feedback regarding street names during a Community Outreach Open House at the Sherwood Community Center. In addition, Council has received petitions and emails from residents and the Mosby Woods Community Assn., plus comments via the City's online Engage page. 
The 14 streets advisory group recommends Council rename are: Plantation Parkway, Confederate Lane, Raider Lane, Ranger Road, Reb Street, Scarlet Circle, Singleton Circle, Traveler Street, Mosby Woods Drive, Lee Highway, Old Lee Highway, Lee Street, Mosby Road and Stonewall Avenue. All but the last five are in the Mosby Woods community.
Last Tuesday, June 14, Council held a public hearing on the matter, and residents weren't shy about voicing their opinions. Some 47 people signed up to speak and definitely gave the members an earful. 
Patricia McMurray was an original resident of Mosby Woods, moving there in 1962. She's since moved away, but still owns that house in which her daughter and her family now live. 
"It's time to make a change," she said. "What we name things represents our values.
"Systemic racism still exists in our country, and this won't stop it, but it's a small step in the right direction. I look forward to visiting my grandchildren someday without having to cringe when I pass the intersection of Plantation Parkway and Confederate Lane."
Marissa Perrone of Ranger Road said homes on streets with names having Confederate connections sell for 6 percent less. "Zillow said it amounts to $40,000/house in Mosby Woods."
Gesturing toward the packed room of predominantly white people, Ramin Mostafabi of Oakton told Council, "The affected people are clearly underrepresented here. This is a bunch of non-Black people speaking for Blacks. No streets are named after the Holocaust, either, but no one's forgotten it. The mild inconvenience of changing street names pales in comparison to 400 years of slavery and 150 years of systemic racism."
Ben Hardington of Ranger Road said what's important is the totality of history. "We have an opportunity to put down our own marker [acknowledging] that we hear from our residents that something makes them feel unwelcome, uncomfortable or unsafe," he said. 
"We use historical references to let people know what we associate with – and in the '60s, when these streets were named, that was the case. Ranger Road wasn't named after other types of rangers. What do we want future historians to think about our values?"
Noting that he was a SAG member, Jay Lamb said, "Many of the street names we considered were related to confederate military officers who perpetuated a system that was brutal and inhumane. People in Mosby Woods like the names, Ranger and Traveler; but the fact that they're where they are, has brought attention to them. Street names aren't the repository of history, but our group's efforts are an attempt to [right the wrong]."
"I'm in full support of changing all the names," said Michael Gillespie of Plantation Parkway. "It's a human consideration; what do we want others to think about our community? It's an investment in making our City more inclusive and welcoming to others. I wonder what people think of our City when they see names like Confederate Lane or Lee Highway."
President of the Mosby Woods Community Assn., Robert Reinsel lives on Singleton Circle. "We've held several conversations in our community, took a poll in April and made a report," he said. "Sixty percent of the community is in favor of changing Plantation Parkway, Confederate Lane and Reb Street. Some 494 individuals were polled, and 47 percent responded. The results for the other names were reversed, with 60 percent not wanting them changed."
Ranger Road's Joe Messa said, "I have no love for the Confederacy; and because of the hatred they inspired and the division they caused, I'm in favor of changing the three street names Mr. Reinsel mentioned. Ranger and Traveler aren't words attached to slavery and the Confederacy. And Traveler [Robert E. Lee's favorite horse] didn't have a choice in which side he fought for."
A Mosby Woods resident on Scout Drive, Maureen Borsati wants the names of her community and all its streets changed. "It's a great neighborhood, but the name is outdated and offensive. It doesn't represent the best of us, and we should define a new future for our neighborhood. It's not what we want to be known for.
"If a new neighborhood were to be built with those names, they wouldn't be welcomed. To not change their names is to approve them in 2022 – and in my opinion, that's not tolerable."
Also speaking was 10-year-old Lyra Gillespie of Plantation Parkway. "Street names can hurt people," she said. "We learned about the Civil War in fourth grade, and our street names are offensive and impact children, too. One time, a friend and I wanted to write a letter to our role model, but we didn't send it because we thought our street name would offend her."
Next, Luke Waldron said, "I'm in an interracial relationship, and her cousin recently asked why we had a street named Plantation Parkway. She asked, 'Wouldn't I have worked there?' and it broke my heart. Many cities have Martin Luther King or Arthur Ashe drives; we name streets after what we believe in. Plantation shouldn't be one of them."
"Black friends coming to my house tell me the names Confederate and Plantation are painful to them, so I think they should be changed," said Brigade Drive's Joyce Garland. 
Mosby Woods community member Chuck Monaeg said, "By not changing the names, we've discouraged Back people from moving into our neighborhood. We weren't in the room when these streets were named in the early '60s, but that shouldn't stop us from doing the right thing now. And this is also about the people who aren't here and would be ashamed to move into our neighborhood."
Beverly McNeill, who is Black, said, "Every time I go past one of those streets, I get a sick feeling in my stomach. The names should reflect all of this area's rich history. I've studied African American and Civil War history, and I'm a descendant of enslaved people, plus a Confederate soldier. 
"I honor him because, when his son had a child with an African American woman, he supported that child after his father died. The names of community leaders of all religious and ethnic groups should be on streets, parks and other things in our City so our children have role models who look like them."
Jim Gillespie of Old Lee Hills said, "I support the name changes. This community had a redneck, bigoted reputation, back in the day. But it's come a long way in terms of inclusiveness and has moved past that. Mosby Woods will do that, too, and continue to be a strong community."
"When we moved here, 26 years ago, we fell in love with the City," said Brenda Carter. "But we didn't move into Mosby Woods, and I don't take my children there, because the names are off-putting. Fairfax City is a wonderful place, and our street names should reflect that to the world."
Council members will now evaluate everything they've heard and make their decision on June 28.