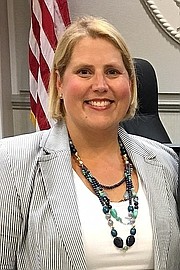 Fairfax City Councilwoman Jennifer Passey is leaving City Council, this summer. She made her announcement during the Council's meeting, last Tuesday, Feb. 11. First elected in September 2017 during the special election to fill Mayor David Meyer's former Council seat, she was re-elected in 2018.
"We live in a special place here, in the City, and I've found some delight in being a member of Council," said Passey. "But I will not be running for re-election." And while noting that several factors played into her decision, she didn't go into detail during the meeting.
Afterward, however, she said, "What a privilege it has been to serve the City of Fairfax as an elected member of the City Council. This current Council has worked together to move our City forward in a positive direction, and I have enjoyed working with them, our great City staff and residents. [But] this job takes a great deal of effort and time. And, as a working mom of four boys, I need to take a step back and put the focus back on my family and work life."
"I challenge those elected in May to continue my efforts to work together and find common ground," continued Passey. "I also challenge all residents to assume positive intent. This job is not easy, and I know the Councilmembers work hard to make the best decisions for our entire community."
She also thanked the voters who trusted her to serve them well, during her past two terms, and said how much she liked getting to know so many people in the City and have "real, meaningful discussions" with them.

Passey also sent an email to her constituents. In it, she wrote, "This was a difficult decision, as I have enjoyed representing you. My family and I are blessed by our community, and I look forward to serving the remainder of my second term – through June 30."