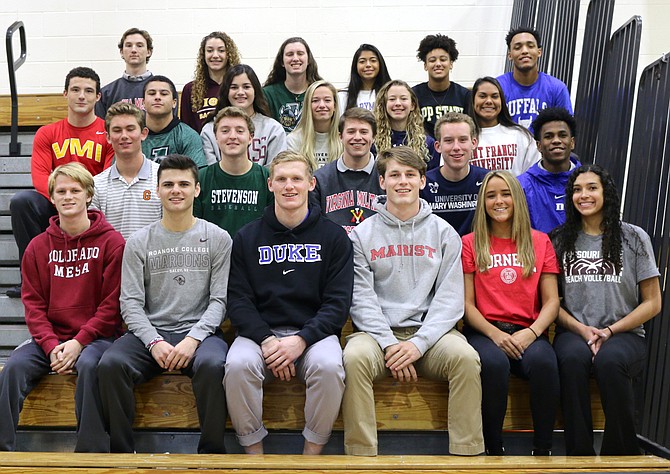 St. Paul VI Catholic High School in Fairfax has announced its first round of NCAA signees and other senior college commits for the year. These 23 student-athletes will continue their academic and athletic careers at the next level.
Bottom row, left to right: Jackson Palmer (Colorado Mesa Lacrosse), Ben Branic (Roanoke College Lacrosse), Charlie O'Connor (Duke Lacrosse), John Kelly (Marist Lacrosse), Brynn McDonald (Cornell Lacrosse), Elena Sanchez (Missouri State Beach Volleyball).
Second row: Caleb McNaull (Gettysburg Lacrosse), Patrick Ashby (Stevenson Baseball), Max Redmond (VMI Lacrosse), Will Rissing (Mary Washington Soccer), Jeremy Roach (Duke Basketball).
Third Row: Brian Howdershell (VMI Lacrosse), Billy Saffin (Loyola University Maryland Lacrosse), Charlotte Clavelli (UMass Amherst Lacrosse), Lindsay Brandow (Scranton Lacrosse), Sarah Gurley (United States Naval Academy Swim & Dive), Alex Parra (St. Francis University Soccer).
Back Row: Owen Houston (VMI Lacrosse), Sydney Avoletta (Iona Basketball), Meghan Kenefick (Cleveland State Basketball), Brianna Arevalo (Marymount Soccer), Faith Alston (Appalachian State Basketball), Josiah Freeman (University of Buffalo Basketball).