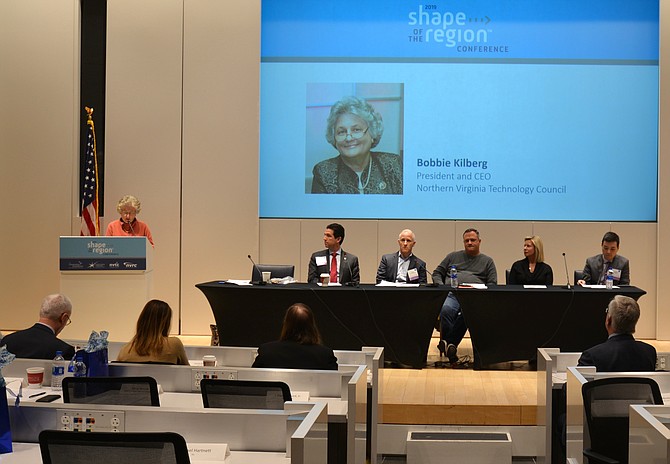 It's getting harder for people right here in our own backyard to move up the economic ladder from poverty or near-poverty to improve their economic status.
The problem is not limited to the "traditionally" poor, or to any particular ethnic group, race or immigration status, or to any one cause, although those same studies show that those factors and a person's zip code affect access to opportunity.
One only has to consider the impacts of the recent government shutdown to realize that even those working "good jobs" can quickly lose their place on the ladder of financial stability and success — through no fault of their own.
There is a lot of work to be done if all residents of Northern Virginia are to have the opportunity for upward mobility and stability. The Community Foundation for Northern Virginia (CFNV) and partners the Northern Virginia Chamber of Commerce, the Northern Virginia Regional Commission (NVRC) and the Northern Virginia Technology Council (NVTC) used the occasion of their 2019 Shape of the Region conference on March 7 to present the argument that there is, in fact, a critical "Business Case for Economic Mobility" if the region is to continue to thrive.
THE SPEAKERS presented examples from their varied perspectives on how widespread the problem is, causes, and what might happen if the region doesn't act collaboratively to combat the situation. Failure to act will leave many in distressing situations, but it also means that area businesses struggle to fill certain jobs. One speaker warned, it might even mean a stifling of the area's future growth as businesses possibly look to move elsewhere where more employees could be available — employees with the skills those businesses seek, in areas where the employees can afford to live.
But to tackle a problem, one first has to define it and truly identify and measure its scope and impact.
Not content with basing their efforts to improve community conditions and seed innovation and growth on anecdotal evidence alone, or even on the loosely combined reports of area non-profits, government offices and other sources, a few
years ago the Community Foundation of Northern Virginia commissioned an analysis to examine 26 indicators of local social, economic, educational and civic wellbeing in this region. The result was the Opportunity Index, an interactive tool, free to the public and updated annually, that tracks the trends within those indicators in Arlington, Fairfax, Loudoun and Prince Williams counties and the cities of Alexandria, Fairfax, Falls Church, Manassas and Manassas Park. To provide the most comprehensive picture, the Index is disaggregated not only by jurisdiction and general demographics, but also race, age, and nativity.
At the 2018 Shape of the Region conference, the Opportunity Index was officially introduced and the attendees were shown that Northern Virginia, for all its growth and wealth, and despite the sincere efforts of scores of community organizations, governments and businesses, still only achieved a "Needs Improvement" in many areas of opportunity. Some sections of the Northern Virginia "report card" came close to a failing grade.
The region has made progress in the past year, but as the speakers and panellists illustrated at this year's Shape of the Region gathering, improvement is slow, and the need to bridge the economic mobility gap is more critical than ever.
The 2019 program was inspired and informed by the US Partnership on Mobility from Poverty. The two-year-long project of the Urban Institute, with funding from the Bill & Melinda Gates Foundation, gathered 24 leading voices from all sectors of societies who travelled to more than 30 urban, rural, suburban and tribal communities to learn the issues first-hand from their residents, as well as from some 400 content experts.
Before closing out the official status of the project, the partnership produced its own "mobility measuring toolkit," and a number of white papers on the causes of economic immobility, the challenges to change, and strategies for forward movement.
Members of the original partnership also continue the work and aid others in the effort.
Nisha Patel was the executive director of the partnership. She is now the managing director, Narrative Change and National Initiatives for the Robin Hood Foundation in New York. Patel was also one of the keynote speakers at the Shape of the Region 2019 conference along with Brent Orrell, American Enterprise Institute.
Both Patel and Orrell offered documentation that the mobility gap is still in existence and in many places, still growing.
Some of the ingredients that make up the opportunity divide include a lack of the technical and educational skills required for better-paying jobs, as well as a lack of "soft skills."
"Those [soft skills] are often just as important, if not more so, to employers," said Orrell, referring to traits like the ability to work well in a team, communication, perseverance, "even understanding what is socially expected in the work environment."
TWO PANELS, led respectively by Bobbie Kilberg, of the Northern Virginia Technology Council, and Julie Coons, of the Northern Virginia Chamber of Commerce, offered more in-depth discussion of the challenges, as well as real-world strategies that attendees from all sectors of the community can employ.
Ken Eisner, Worldwide Education Programs, Amazon Web Services; Ray Khuo, Altamira; Steven Partridge, VP of Workforce and Economic Development at Northern Virginia Community College (NVCC); and John Wood, chairman, president and CEO of Telos Corporation, formed the "Tech Talent Pipeline" panel.
Partridge pointed to collaborations between NVCC, George Mason University and companies like Amazon Web Services and Telos that are aimed at "speeding up immediately useful education" with tailored certification programs, internships and apprenticeships. The speakers stressed the importance of "getting them while they are young," starting higher-level STEM education, as well as those desired "soft skills" in high school, if not earlier.
"So many of our jobs and the jobs in the area require high levels of security clearance," said Khuo. With a backlog of 650,000 security clearance cases still awaiting completion, Khuo says the "talent pool is more like a talent puddle" when you add in such obstacles. Khuo recommends hiring students when possible and sponsoring their clearance applications.
Partridge also spoke to changing companies' and applicants' views on internships and apprenticeships, working to see them filled with students with potential who really want to use them as more than resume fillers. As for the need to teach those soft skills, Partridge reminded the audience that almost 70 percent of today's high school students have never worked a "real job" before taking on internships, apprenticeships or their first employment after graduation. "We need to bring back some basic training to help them adjust and to make internships and apprenticeships valuable for them and the employer."
Eisner spoke on ways to stem the exodus of young workers after only a few years with a company. So many STEM-study graduates enter the workforce at impressive starting salaries, but hit a progression wall within a few years of their employment. That stagnation can come from reaching a skills-ceiling or finding the work to not be the challenge they had anticipated.
Employers can help overcome some of these hurdles, encouraging and supporting continuing education and with job re-engineering to offer the challenges that keep employees interested.
Telos' Woods also insists that the internships and apprenticeships need to be "structured and well-designed" for success, recalling his own first "horrible" experiences.
Even more strategies for employers and organizations to employ today to help shorten the mobility gap were offered by the members of the "Moving Ideas into Practice" panel: Karla Bruce, chief equity officer, Fairfax County; Matt Erskine, Booz Allen Hamilton; Jeff Grass, chairman and CEO of start-up HUNGRY; and David Remick, Alexandria/Arlington Regional Workforce Council; moderated by Julie Coons.
Bruce observed early on in the session: Fairfax County government has a dual role to play in this equation, as government and therefore provider of, and influencer in, many of the programs and the policies that can affect economic mobility, but "also as the major employer in the county. We need to lead by example in that role, as well."
Collaboration was again cited as a key component for success in the opinion of these panelists, with Erskine going so far as to suggest that it would take regional, multi-jurisdictional cooperation to truly affect the changes needed, "but someone had to take the lead," he said, providing the successful example of joint-effort work being achieved by "Upskill Houston" in Texas.
Erskine also cautioned that resources and efforts can become disconnected, diluted, and less effective with the large number of organizations in play. With all the good will in the world, more collaboration and less duplication of efforts may speed up the hoped-for results.
Robert Lazaro, executive director, Northern Virginia Regional Commission made the closing remarks, reminding that this is "one region" and that its success and failures, economic and otherwise, are linked and rely on everyone's efforts to achieve the outcomes wanted.