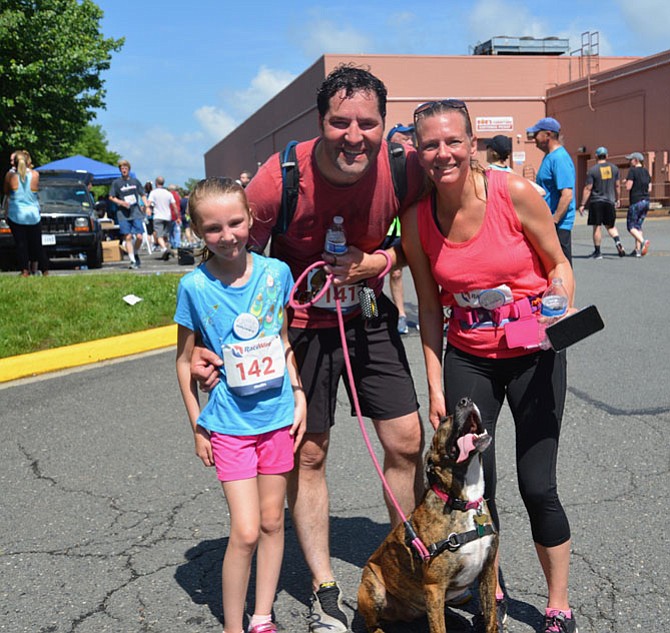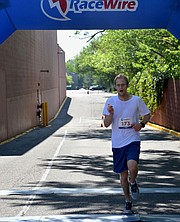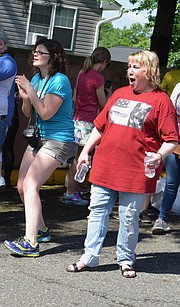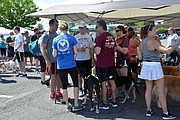 "Things went so well last year, so we're back! Bigger and better than ever!" said Meg Hart, office manager for Homeless Animals Rescue Team (HART), and one of the organizers of the Pups and Pints 5k and the Dogfish Head Alehouse After Party held on Sunday, May 20, to benefit the Fairfax Station-based nonprofit.
Event co-chairs Carolyn and Thom Jones started this HART fundraiser to honor their beloved dog Marigold, a HART "alum," who succumbed to lymphoma in 2011. "It's a way to remember a great friend and help other animals find their forever homes," said Carolyn.
THINGS GOT STARTED back in 2012, when Dogfish Head Alehouse at 13041 Lee Jackson Highway in the Greenbriar Town Center generously agreed to partner up with HART in Marigold's memory. Thom Jones, who works at the casual dining restaurant, said that the first time out, three hours were devoted to raising funds for the charity.
"Dogfish Head has been a real supporter," said Thom. For the 2018 edition of the event, the Alehouse turned over 10 percent of their day's proceeds, from 10 a.m. – 10 p.m.
In addition to the dollars from sales, Dogfish Head turned the parking lot in front of their establishment into a street fair scene. Tents to cover bars, live music, a raffle for multiple prizes, games, and plenty of food and drink on offer to make supporting a worthy cause all the more enjoyable.
Co-chair Carolyn, who works at Praxis Engineering Technologies in Chantilly, was proud to give kudos to her company. Like Dogfish Head Alehouse, Praxis has been supporting this HART event for years. With donations from Praxis, HART is able to offer customized t-shirts for sale with the pictures of shelter animals who have been waiting the longest to find an adoptive family. This year's t-shirt features a sun-glass-wearing, 14 year-old "over-looked friend" named Tiger Lilly.
Of course, before the "after party" – which was open to the public – could begin, the main event of the day had to take place: the Pups and Pints 5K.
Again, encouraged by how well their inaugural attempt at running a race had gone last year, the HART group opened registration beyond the 2017 cap of 200. According to the staff at Race Wire who handled the timing duties, about 250 runners hit the starting line. Also new to this year's event was the addition of four-legged runners and "cheerleaders."
The race took off and ended behind the Total Wine and More store, and the 5k course was supervised by Fairfax County Police officers for the safety of the runners of both species.
Some of the furry participants had been in training for today's race, like 3 year-old Rosie, another adoptee from HART, who wore her own race bib as she ran the course with her human partner, Karen Orozco, formerly of Centreville.
Some of the canine contestants looked like they were born for the competition, despite the heat and humidity of race day. Others had to be encouraged. "Ok. She was awful," laughed Sean Smyth, about running companion Lily, causing his family to contradict him vociferously. "Really. I'm sure I could have finished first if I didn't have to drag her along," he joked.
STILL OTHERS got to enjoy the outing without lifting a paw as they were wheeled along the course in strollers and carts, like Bella, the bulldog.
However they crossed the finish line - running, walking, or wheeled - there was a bottle or bowl of water and a commemorative button awaiting the finishers.
HART is a 501(c)(3) charitable organization. They are a no-kill animal rescue/support group, working with local veterinarians, foster homes, kennels and trainers to provide temporary housing and care while they seek out "loving, carefully screened forever homes."
"With volunteers, donations, and generous support at events like these, we can use almost all of our funds directly on the animals," says Meg Hart, noting that in the last fiscal reporting period, 98.1 percent of those funds went directly to benefit the dogs and cats.