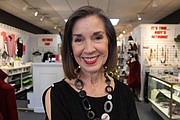 When a nurse turns into an entrepreneur, owning and managing a women's clothing store, customer service comes to the forefront. But what happened to this local family-run store that has been open since 1988?
"What we have been selling is a lot of customer service and that is what kept us going with our loyal base," said Judy Ryan, the owner of Judy Ryan of Fairfax.
"She was wonderful with people; she had a color program and she would match people up; she gave them a lot of attention; she developed a wonderful following," said her business neighbor, Robert Clawes, the owner of Clawes Carpets.
SUSAN, PATTI AND FRAN, three loyal customers, all arrived dressed in Judy Ryan clothing and accessories.
"We have been good friends since shopping at Judy Ryan; we met here," said Patti Harger, who started shopping here shortly after moving to the area in 1988. "I like shopping here because you can't find most of the things at other stores, but if you ever do, you will always find that Judy's price is less."
"My daughter basically grew up here," said Susan McCannell, and added that Ryan's staff members "have become friends to all of us and they all go through life stories and life sorrows with us; we are a close-knit group."
"I had been exposed to so much coming to Judy Ryan. I mean, so many styles, brands, looks, ideas…it is just very stimulating. No matter what I am going through throughout the day, when I get in, there is just a wonderful atmosphere… It is more than a place to shop," said Fran Tancreti. She does not know what she will do after the closing of the store.
"The decision to close the store was a very difficult one," said Ryan, holding back tears.
"Walmart came in and she competed against Walmart and did fine. The mall came in and she competed and did fine, so this is the last one, you know what I mean? Amazon," explained her neighbor, Clawes.
"Our demographics changed significantly; we were at the same age when we opened 30 years ago and when my customer base moved out of the area, they started retiring and departing and they did not need many outfits," said Ryan.
McCannell added, "For Generation X or people in their 30s and 40s, they have children, they do not have spare time, so they do online shopping after they put the kids to bed."
"I have a daughter and a daughter-in-law. They are both very, very busy with full-time careers and their children and their activities. My daughter-in-law does not live in the area. She would love to come shopping up here whenever they visit, but she is becoming a big online shopper now. It is a sea change; in the shopping center it used to be all retail, now it is all service. On Sunday, it is like a ghost town because these people aren't open," said Ryan.
When asked if the store could become an online store instead, Ryan said, "No, the competition is so strong with Amazon and with people who have a lot of funding. When customers have to return, you need a whole department to do that and you need to carry the inventory. So, say someone makes a selection and you can't ship in a week and Amazon is shipping the next day for free. You can't compete with that."
AS YOU ENTER THE STORE, you see unique collections of home décor and gifts, clothes matched with the perfect accessories, shoes, hats, stockings, and cards.
When it comes to selecting her products, Ryan said, "The decision-making process is both gut and visual, as well as budget. There is a lot of math involved that nobody sees, but you have to keep your store balanced. I shop with the customer in mind; I do a lot of looking and walking to school myself on what the trends are, and then pick from those trends the ones that translate to our customer base."
Now, Ryan's new focus will be "consulting in any direction from personal shopping, wardrobe styling, and closet edits," as well as working in trade shows.
The retirement sale started on Oct. 12, 2017, and the store will remain open until Dec. 10, as the inventory is sold down.
Judy Ryan of Fairfax is located at 9565 Braddock Road in Fairfax.