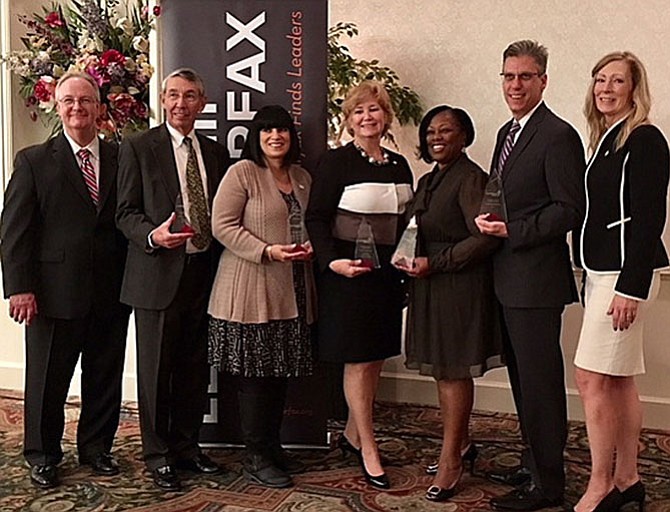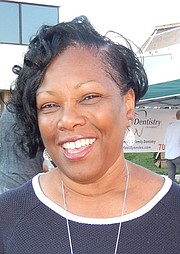 City of Fairfax Schools Superintendent Phyllis Pajardo was just honored by Leadership Fairfax as the 2017 Education Leader of the Year. She found out about it in October and received her award last Thursday, Nov. 9. It was presented during the Northern Virginia Leadership Awards luncheon at The Waterford in Fair Oaks celebrating all the winners.
"Dr. Pajardo has mentored many leaders in the field of education," said friend and colleague Nardos King. "I am sure I can speak for others in saying that she has inspired, encouraged and supported many of us to get where we are as leaders."
"Dr. Pajardo is the epitome of what is means to be dynamic, forward thinking and innovative in our field," continued King. "I am so proud and honored to be associated with her, and she is most deserving of this award."
Pajardo joined City of Fairfax Schools in 2015 after working for almost 35 years at Fairfax County Public Schools. She served as a teacher, assistant principal, principal, cluster (region) director and cluster assistant superintendent. From 2011-2015, Pajardo was the FCPS Assistant Superintendent for Human Resources, responsible for recruiting, hiring and developing a diverse workforce for the school system. This is her first year as the City Schools superintendent.
As for the leadership award, she said, "I'm still getting my head around it. It's overwhelming and gratifying because I don't think educators do the work for recognition. We do it because we see a need and because we mentor people and want to impact others."
Pajardo was nominated for the award by some of her former principals in both Fairfax County and Fairfax City schools. And it was particularly fitting because, said Pajardo, "I know that I helped the people who nominated me grow as leaders."
Leadership Fairfax is a nonprofit organization that inspires, develops, engages and connects leaders across sectors and experience to impact issues facing Fairfax County and the region. And on Monday, its president and CEO, Karen Cleveland, said, "We are grateful to live in a county with dedicated and talented educators to nurture future generations. But we honor Dr. Phyllis Pajardo for being more than an educator.
"Dr. Phyl is an exceptional leader at every level. Whether she is running a department, taking on a multimillion-dollar project or volunteering for an initiative, she leads with vision, passion and selfless dedication. I cannot count the number of educators, students and administrators who reached out when they heard she was receiving this award, saying how deserving she was and how she is the epitome of an education leader."
Besides being the City Schools' superintendent, Pajardo also serves as an adjunct faculty member in leadership preparation/development for GMU, UVA and Virginia Tech and has given presentations at national, state and local conferences.