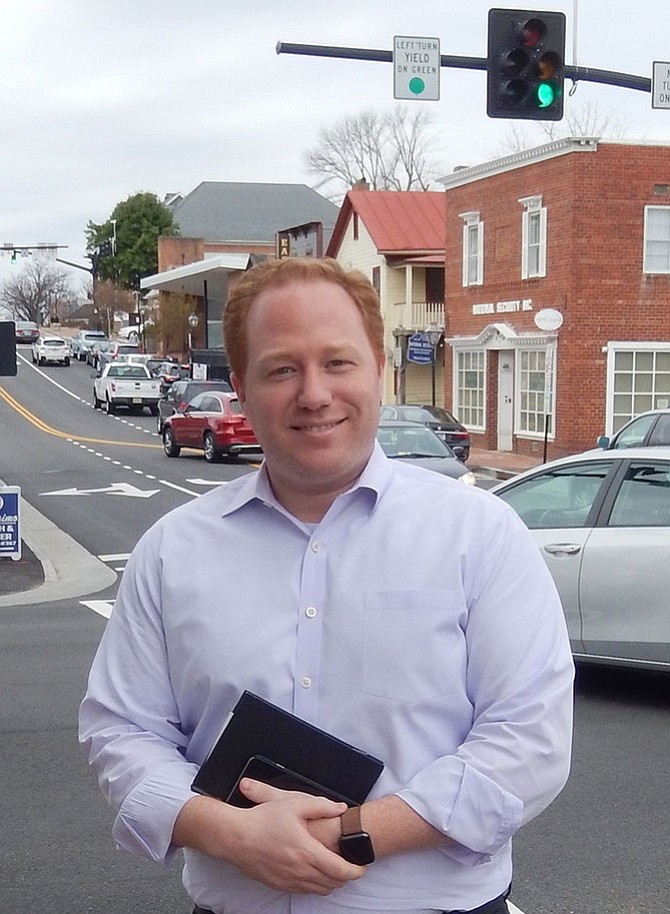 After nearly a year as the City of Fairfax's economic development director, Chris Bruno is optimistic about the future. Praising the city's many assets, he said what it needs to do now is capitalize on them.
"One of my favorite parts of this job is people's willingness to tell me what they want here in this community and help us put the pieces together," he said. "We want Fairfax to be a destination – and it naturally is, because we're in the middle of everything."
Born in New York, Bruno and his parents moved to Virginia when he was a middle-schooler, settling in Mosby Woods, where they still live. Bruno graduated from Paul VI High in 2002 and spent his freshman year of college at the University of Scranton in Pennsylvania.
He transferred to New York's Fordham University for his last three years, receiving a bachelor's degree in history and, in 2007, a master's in political science. Then he worked as a paralegal in the Manhattan District Attorney's Office, including participating in financial-fraud investigations at the New York Mercantile Exchange.
While there, Bruno realized he wanted to attend law school, so he enrolled in the New York Law School in Tribeca, focusing on intellectual-properties cases and obtaining his law degree. He then became director of Avenue NYC, a unit of the New York City Department of Small Business Services, where he was involved in the commercial revitalization of the city.
"I started the week before Hurricane Sandy; so almost immediately, we were tasked with rebuilding the business communities in the hardest-hit neighborhoods in New York," he said. "They included Rockaway Beach, Queens and the South Street Seaport in Manhattan."
AFTER ABOUT A YEAR, Bruno became the agency counsel for the Department of Small Business Services, working with City Hall and other departments within the city — including New York City's 73 business-improvement districts. And, he said, "A lot of the ideas I have for Fairfax come from my experience there."
So why leave New York for a much smaller jurisdiction? "I'd visit my parents in Fairfax and see what was going on, and I liked it," said Bruno. "I was attracted to then-Mayor Silverthorne's vision for the city and started talking with City Manager Bob Sisson."
"I realized there's so much opportunity here, plus a lot of enthusiasm for projects and support on the City Council and within city government," he continued. "Fairfax is also dedicated to maintaining an insanely high level of city services. And I think the city manager and city government have done an incredibly wonderful job, over the years, operating the government efficiently and maintaining the quality of life our citizens have come to expect."
And regardless of whatever challenges have come its way, said Bruno, the city has always functioned at a "respectively high level. It's visible, and it's why I want to work here – because this city cares deeply about its residents and businesses. There's also an added level of flexibility and an eagerness to work with people that you don't necessarily find in larger jurisdictions."
He became Fairfax's economic development director in May 2016. "Overall, my job is to create excitement surrounding the business opportunities that exist here in the city," he said. "And we've done a number of things to bring a fresh energy toward moving the city forward."
Bruno stressed, however, that Fairfax wasn't in a bad position when he arrived. "It just needed a new perspective," he said. Some of the changes he's making are cosmetic to make the downtown buildings more attractive. For example, the property owner of De Clieu Coffee & Sandwiches is getting a façade-improvement grant to spruce up the exterior.
And the end of March, in Old Town Hall, the city's Economic Development Office and Economic Development Authority jointly hosted Piranha Tank. Similar to the TV show, "Shark Tank," it connected innovators and entrepreneurs with investors and access to capital to potentially fund new business ventures.
"Events like that show there's a desire for a vibrant business community, and these are the elements we need to continue to highlight," said Bruno. "The long-range goal is that property owners, real-estate brokers and small-business owners will see these things and realize Fairfax really is a great place to open a business and to live."
Basically, he said, "We have the second-lowest, residential tax rate in the region and a low tax rate in general — and we have to shine a light on it. We really are the center of this region; we just have to capitalize on it. We offer a small-town feel with big-city services and a real sense of unique, neighborhood connectivity."
"There's a real epicenter of community, commerce and activity in the city," continued Bruno. "And we're going to highlight our economic-development component during the city's events, such as Rock the Block. For example, we'll have Rock the Block after Dark. Businesses will stay open later and provide discounts and tours, and restaurants will offer meals at a discount. Or a business might offer its parking lot for outdoor movies. All these things are ways of showing people there's value to spending time here and enjoying themselves, instead of driving to [Washington,] D.C."
EQUALLY IMPORTANT, he said, is retaining an architect to conceptualize what underutilized properties could potentially become. "It's an incentive for business and property owners," said Bruno. "It's the city going the extra mile to say, 'We care about your success and we're going to do what we can to help you.' Right now, we're looking at 10426 Main St., next to Victoria's Cakery."
GMU also figures significantly in the city's future development plans. "GMU is our strongest partner," said Bruno. "It's enthusiastic and willing to engage with us, and we're making a priority of attracting the kinds of businesses that will make the students come here for good, clean fun. And we want them to live here, as well. We're a college town and we need to start identifying ourselves as such."
Any business owners or property developers interested in setting up shop in Fairfax may reach him at christopher.bruno@fairfaxva.gov and he said he'll be happy to speak with them. Current city residents and business owners are also welcome to tell him their suggestions or complaints or just have a conversation.
"I want to be the most accessible person in my office," said Bruno. "And if I don't know the answer to someone's question, I'll put them in touch with the person who does."