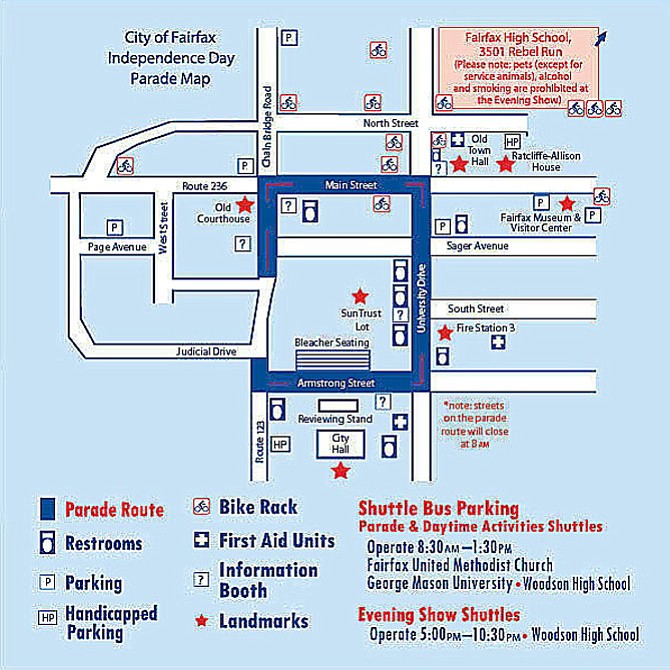 When it comes to celebrating the Fourth of July, the City of Fairfax does it up right. There's a lively and colorful, two-hour-long parade, food, competitions at the fire station, and live music and fireworks at Fairfax High.
This year's event is the 51st annual, and Mayor David Meyer believes it's head-and-shoulders above the rest. "The City of Fairfax celebration is one of the finest observances of Independence Day in the country," he said. "Our parade, evening fireworks and music are simply the best of any local government anywhere."
"I am so proud of the many volunteers and our dedicated staff who make this event so outstanding and meaningful every year," he continued. "Everyone is welcome to be part of this wonderful day in the City of Fairfax."
Parade
The parade starts Tuesday, July 4, at 10 a.m. at 4100 Chain Bridge Road, travels down Main Street and up University Drive to the reviewing stand on Armstrong Street. On display will be floats, marching bands, large inflatable balloons, superheroes, bagpipers, dancers, horses and clowns; and, as always, Uncle Sam is the grand marshal.
Illustrating this year's theme, "Volunteers Light Up Fairfax," will be a float with local volunteers from many City organizations. Also featured will be 10 high-school bands from throughout the county, including the Fairfax High Marching Rebels and the Woodson High Marching Cavaliers, as well as the City of Fairfax Band, Fairfax High Alumni Kazoo Band and Washington Redskins Marching Band.
Various honor guards from entities such as the Fairfax City fire and police departments will participate, as will Boy Scouts, Girls Scouts, Cub Scouts, the Fairfax Library Precision Book Cart Drill Team, the Clifton Horse Society, Fairfax Jubil-Aires (singing barbershop music) and the Fairfax Kena Shriners riding in miniature cars.
Other highlights will include Batman and his Batmobile, Harley motorcycle owners, Children of the Light Dancers, City of Fairfax Theatre Co., Tuba Guy, cheerleaders and the Flying Circus Airshow.
The Independence Day Celebration Committee and the City of Fairfax Parks and Recreation Department organized the parade, and bringing it to fruition are countless volunteers. The event goes on, rain or shine; and except for service animals, attendees should leave pets at home,
Superheroes, Firefighters
After the parade, superheroes will be in the SunTrust Bank parking lot, across from Fire Station 3 at 4081 University Drive, from noon-1 p.m. Children can meet and take photos with their favorite superheroes, including Superman, the Flash, Batman, Robin, the Green Lantern, Wonder Woman and Captain America. And they can see the famous Batmobile up close, too. In addition, area fire companies will compete in an Old-Fashioned Fireman's Day, from 12:30-3 p.m., at the station.
Open Houses
Historic buildings will also welcome visitors on July 4. The Fairfax Museum and Visitors Center, 10209 Main St., will be open from 9 a.m.-4 p.m., and the Ratcliffe-Allison-Pozer House, 10386 Main St., will be open from 11:30 a.m.-1 p.m.
Parking, Shuttle Buses
Streets on the parade route will close at 8 a.m., but shuttle buses will run from 8:30-10:30 a.m. from George Mason University's Rappahannock River Parking Deck, 4400 University Drive; Woodson High, 9525 Main St.; and Fairfax United Methodist Church, 10300 Stratford Ave. They'll return again, from 12:30-1:30 p.m., following the parade.
Evening show shuttle buses will run from 5-9 p.m. from Woodson High to Fairfax High. Afterward, buses will return spectators to Woodson until 11 p.m. Only handicapped parking is available at Fairfax High.
Music and Fireworks
The evening festivities will run from 6-10:30 p.m. at Fairfax High's football field, 3501 Rebel Run. The Hackens Boys will kick things off with some classic-rock favorites. The City of Fairfax Band will play the "1812 Overture" to herald the fireworks display at 9:30 p.m. And rockers Party Like It's…, will take the stage to perform hits from the '80s to today, before and after the fireworks. Spectators are encouraged to bring their own chairs.
Rain date for fireworks only is July 5 at 9:30 p.m. Shuttles will then run from 7-9 p.m. from Woodson High to Fairfax High, returning until 10:30 p.m.
New Logo, Tagline
July 4 will also mark the official roll-out of the new, Fairfax City logomark and tagline, "Live Life Connected," to strengthen and promote the City's identity. The slogan means that, in the City of Fairfax, living connected is a way of life. Here, people connect with family and friends in the small-town atmosphere at restaurants, shops and other gathering places. They're also able to connect with history, nature, the arts, education, transportation, local businesses and the community.
Sponsors, Information
The main sponsors are Fair City Mall, 97.1 and WASH-FM. For more information on the Independence Day activities or to volunteer, call 703-385-7858 or visit www.fairfaxva.gov/July4.