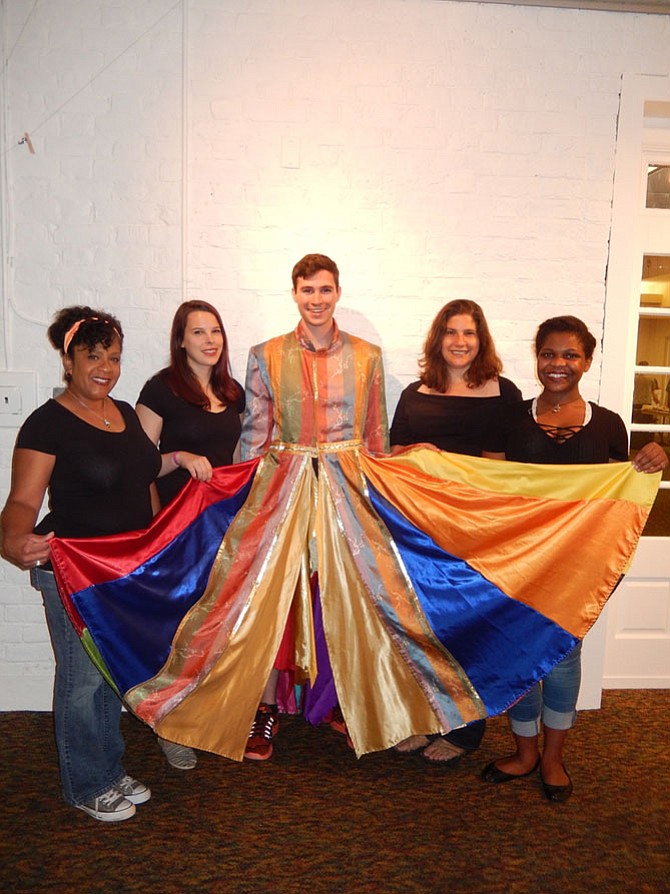 To Go
Show times are:
Friday, ​July 21 and July 28, at 7:30 p.m.
Saturday, July 22 and July 29, at 2 and 7:30 p.m.
Sunday, July 23, at 3 p.m.
Thursday, July 27, at 7:30 p.m.
Tickets are $15, ages 13-adult; $10, children, via www.fairfaxcitytheatre.org, or $18 and $13, respectively, at the door. Group (10+) pricing is available for Thursday evening, plus Saturday and Sunday matinees.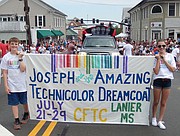 Featuring a cast and crew of 45, the City of Fairfax Theatre Co. (CFTC) presents "Joseph and the Amazing Technicolor Dreamcoat." The exuberant musical will burst upon the stage, July 21-29, at Lanier Middle School, 3801 Jermantown Road in Fairfax.
"It retells the Biblical story of Israel's favorite son, Joseph," said Producer and CFTC Artistic Director Kirsten Boyd. "Eleven brothers and one coat of many colors form a magical musical filled with unforgettable songs and high-energy dance numbers."
The show follows what happens to Joseph after his brothers sell him into slavery in Egypt. "He makes the best of it and demonstrates how good can come out of a bad situation," said Boyd. "It's a classic, well-loved musical written by Andrew Lloyd Webber."
"We thought it would be perfect for CFTC's summer season because it involves a big, multi-age cast and has lots of songs and dances," she continued. "And we're thrilled to have [Fairfax High Theater Director] Erich DiCenzi as our director and choreographer."
THE STORY TRAVELS from Biblical times through several different eras, including the 1960s and '70s, so there's a wide range of costumes. "There are even western costumes," said Boyd. "And each time period and person slowly gets more colorful as the show unfolds." The set is designed to feature the choreography and multicolored lighting. And it also changes shapes and levels to create the various locations.
"We've taken this show and given it a new, electric energy," said Boyd. "People will love the story, the entire ensemble and Elijah King as Joseph. He's extremely talented and spent the past year as a freshman at the Cincinnati Conservatory of Music – one of the top five, musical-theater schools in the country."
A 2016 Fairfax High grad, King is majoring in musical theater and hopes to make it his career. He played the lead in Fairfax's production of "The Wedding Singer" and is happy to be working again with his friends and mentors from high school.
King describes Joseph as "outgoing, loving and kindhearted. He's the centerpiece for the show's theme of hope and is considered a dreamer. His brothers are jealous of him and the attention he gets from their father, so they sell him into slavery. It's fun and challenging to play him because he carries a lot of the plot and keeps the show's morals and themes present and strong."
"Joseph has to show hope at all times," said King. "But I like that he's goofy and over-the-top and has many, comedic moments that he shares with the other characters. This cast is so easy to work with that the humor, big song-and-dance numbers and the acting, itself, come very naturally."
King's favorite song is "One More Angel in Heaven," a group number. "Their energy and acting really make it stand out," he said. "It's fast-paced and they take the dance to a higher level and make it their own. And the show is so uplifting and positive that everyone who sees it will have a smile on their face."
Portraying Pharaoh is Fairfax resident Joey Olson. "He's in the 1950s realm in Egypt and is almost an Elvis-type character," said Olson. "He needs Joseph's help interpreting his bad dreams. He's big, loud and over-the-top. He loves his people but, more so, needs them to love him; he's like a rock narcissist, but a kind one."
Loving his role, Olson said, "I'm a rock-and-roll singer [in real life], so I get to be more me. I also get to do my own choreography and freestyle it, and Elijah does the moves with me. I really like the number, 'Song of the King,' because it's fun and I sing it with doo-wop singers in the background. It's rock-and-roll, Elvis, loud and funny. It celebrates Pharaoh getting freed from his bad dreams and rewarding Joseph, as a result."
Olson said all ages will enjoy this musical. "We have people from 7-70 in the show, so it's a melting pot," he said. "We're all having fun together on stage, and it'll be infectious to the audience. This show is unique because it's mainly music, instead of spoken lines. And there are so many, different genres of music that everyone will find something to like and will have their own, favorite numbers."
Fairfax High Spanish teacher Bruni Herring is one of four narrators in a musical that normally just has one. "We tell the story as it happens, interact with the audience and blend in with the actors," she said. "We each bring our individual vibe and type of musical voice – rock, soul, Gospel and classic – but at the same time, our harmonies blend well together."
The narrators also comment on the action, and Herring likes interacting with everyone. Her favorite number is "Those Canaan Days," sung by the brothers. "It's at the story's climax where they realize things aren't what they thought they'd be without Joseph," she explained. "They're regretting it and missing him, so the song's both funny and sad,"
She said the audience will love all the musical numbers and will even learn something about their own character. "Joseph possesses characteristics everyone should have – honesty and perseverance," said Herring. "It's a story about hope when it seems like there is no more hope. The message is that, even when it seems darkest, there's always a light at the end of the tunnel."
Playing Reuben, the oldest brother, is Joshua McCreary. "He's the most self-assured, strong-willed, authoritative one, trying to watch over and keep his brothers in line," said McCreary. "He's nostalgic and yearning for the past before a drought hit Canaan and things went south for them."
Since he's 11 years older than the other brothers, he says they "give me lots of energy and keep me on my toes. The dancing numbers are tough, but that's what makes it exciting. I don't like to be the pushy one in real life, but it's fun to puff out my chest on stage and make people afraid of me. And I always wanted to play one of these brothers because they're so cartoonishly evil in the beginning before they turn around and learn humility."

McCreary really likes the song, "Jacob in Egypt," because, although short, "It's a powerful choral number that everyone sings, and the harmonies are just beautiful."
Regarding the show, he said, "In general, people have a lot of cynicism and distrust of each other today. But this musical promotes the idea that – if you give your brother a break and trust people not in your immediate family – they can pleasantly surprise you and do miraculous things."