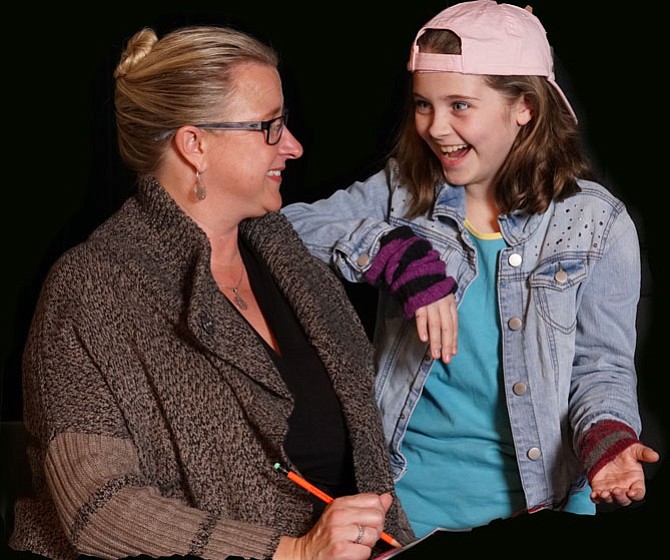 Fairfax — With a cast of 30, including about two dozen children, the Providence Players of Fairfax (PPF) will present a long-time Holiday favorite, "The Best Christmas Pageant Ever." Written by Barbara Robinson, this affirming Holiday-themed play has previously been a magazine articles and a book about children considered the unruliest in their town. But, all change for the better after the children are cast in their local Church's Christmas pageant.
"We selected "The Best Christmas Pageant Ever" because when we first mounted the show in 2012 it was such a resounding audience favorite," said Jayne Victor, PPF Board President. "It is a delightfully funny show and has such a strong positive message for the Holiday season."
"The Best Christmas Pageant Ever," introduces the audience to the six "worst kids in the world" as author Robinson described the Herdman family children. As described by Chip Gertzog, PPF Board member, the heartwarming play then follows the incorrigible Herdman children "as they attend church for the first time because they're told there will be snacks."
Over the rest of the town's objections, the Herdman children are somehow cast in the Church Christmas play. Disaster is expected and the town has gathered waiting in anticipation of a ruined Christmas play. In this family friendly play, the children are unexpectedly transformed in a very comic fashion to gain the true spirit of Christmas.
Working to provide affordable live theater especially during the Holiday season, the Providence Players have free student and senior preview performances prior to official opening of the show. Qualified organizations can arrange complimentary tickets for those who would be unable to afford to attend by contacting the PPF.
"Best Christmas Pageant Ever" is a co-production with the "Youth Hearts" organization and will benefit the work of "The Young Hearts Foundation," a 501(c)3 organization with a mission to improve the lives of young people affected by long-term illness. This includes medical research, support for families affected by long-term illness of a child and raising awareness.
"The show broke holiday show attendance records for the Providence Players when it was produced several years ago," said Gertzog. "Since we co-produce our Holiday show with the Young Hearts as a fundraiser, we are always looking for a play with strong audience appeal and one that will resonate with the entire family. 'The Best Christmas Pageant Ever" is truly great theater, produced for a great cause!"
Where and When
Providence Players present "The Best Christmas Pageant Ever" at James Lee Community Center Theater, 2855 Annandale Road, Falls Church. Performances Dec. 9 to Dec. 18, 2016. Thursday, Friday and Saturday evenings at 7:30 p.m., Saturday and Sunday 2 p.m. matinees on Dec. 10, 11, 17 and 18, 2016. Tickets on-line at www.providenceplayers.org or call 703-425-6782.