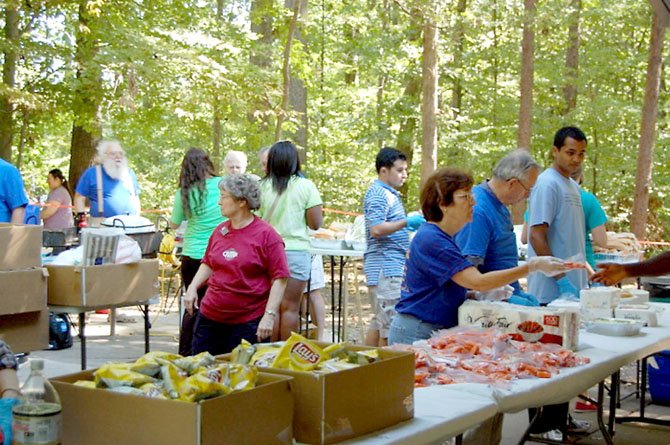 Over 300 people attended the recent picnic at Burke Lake Park for individuals with intellectual disabilities, their staff, and their families. The picnic was a combined effort of the Area 3 Civitan Clubs, including the Arlington, Fairfax, Greater Loudoun and Tysons Clubs, and the Fairfax County Department of Therapeutic Recreation, assisted by 13 members of the Alpha Phi Omega Service Fraternity at George Mason University. Members from the CFS Proud Hearts and MVLE Broadway Stars Civitan Clubs were also in attendance.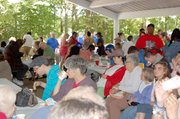 Therapeutic Recreation had a variety of activities all ready and waiting for the individuals. Meanwhile, the Civitans and the fraternity brothers and sisters were busily getting the tables arranged and food prepared for the hungry guests. Both serving lines were opened around 11:30 a.m. and the guests were served all-you-can-eat hot dogs, baggies of carrots, chips, soda/water and ice cream sandwiches for dessert. As people finished eating, they participated in more activities, including a scavenger hunt, karaoke, and dancing, while yet others went for walks in the beautiful park.
Among the guests were members and staff from the four Fairfax County Therapeutic Recreation Adult Social Clubs, individuals from several day support centers, residents from the Northern Virginia Training Center, residents from many group homes from all of the surrounding counties and cities, students and staff from various schools for individuals with special needs, family members and bus drivers. Civitan was founded in 1917 to build good citizenship in communities by providing a volunteer organization of clubs dedicated to serving individual and community needs with an emphasis on helping people with developmental disabilities. Our theme this year has been "Enriching Lives Through Service." For more information about helping Civitan fulfill its mission, contact Elaine Senft at 703-726-0965.
More like this story